THE PEOPLES FILE (CLASSIFIED)
---
---
CONFIDENTIAL (G7)
TOP SECRET
HEADQUARTERS
AIR MATERIAL COMMAND

IN REPLY ADDRESS BOTH
COMMUNICATION AND EN-
VELOPE TO COMMANDING
GENERAL, AIR MATERIAL
COMMAND, A T T E N T I O N
FOLLOWING OFFICE SYMBOL:

TSDIN
TSDIN/HMM/ig/6-4100
WRIGHT FIELD, DAYTON, OHIO
---


SUBJECT:

Name: Bernard Salwyn Peoples
Race: Caucasian
Height: 5'9'
Weight: 180
Hair color: brown
Eye color: brown
Distinguishing marks: bullet scar on left side of chest just below the clavicle
Education: Grade 10
SS# 103-24-7843
DOB: 3/22/21
Current address:
424 Clark St. Apt. #4 (Walsh Apartments)
Jerome, Arizona
Phone: none
Occupation: Handyman
Military Service:
Pvt. with Fifth Army, infantry.
Served from 2/23/41 to 7/6/45
Dishonorable Discharge: Assault upon a superior officer
Financial status:
No checking or savings accounts.
Debt to IRS - $527.34




---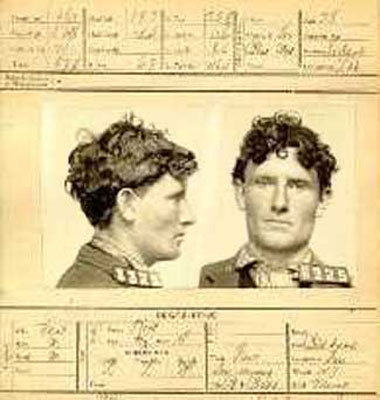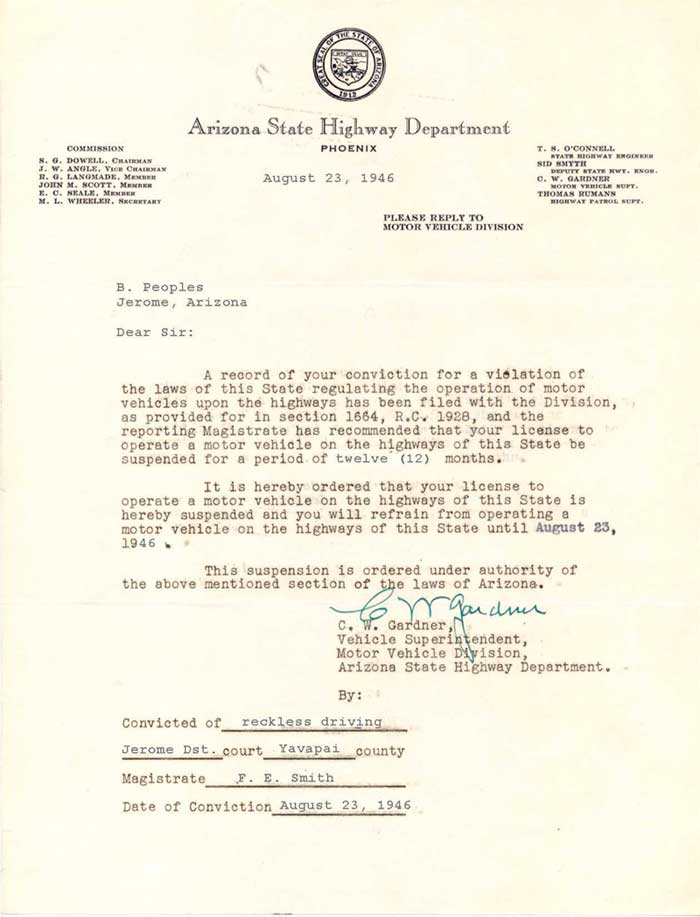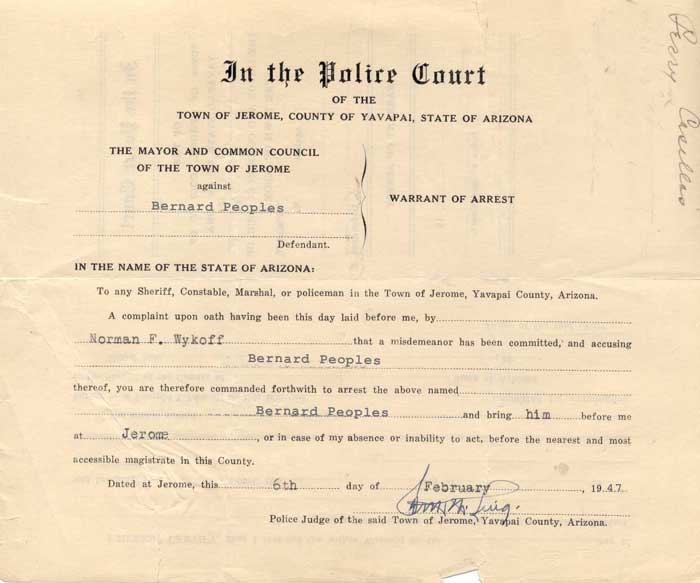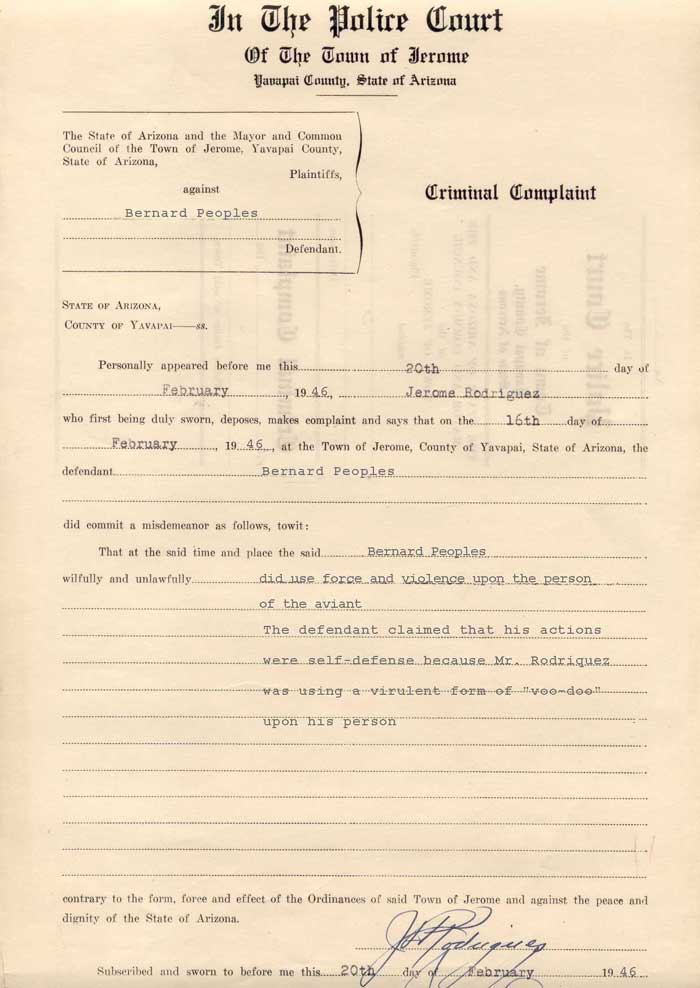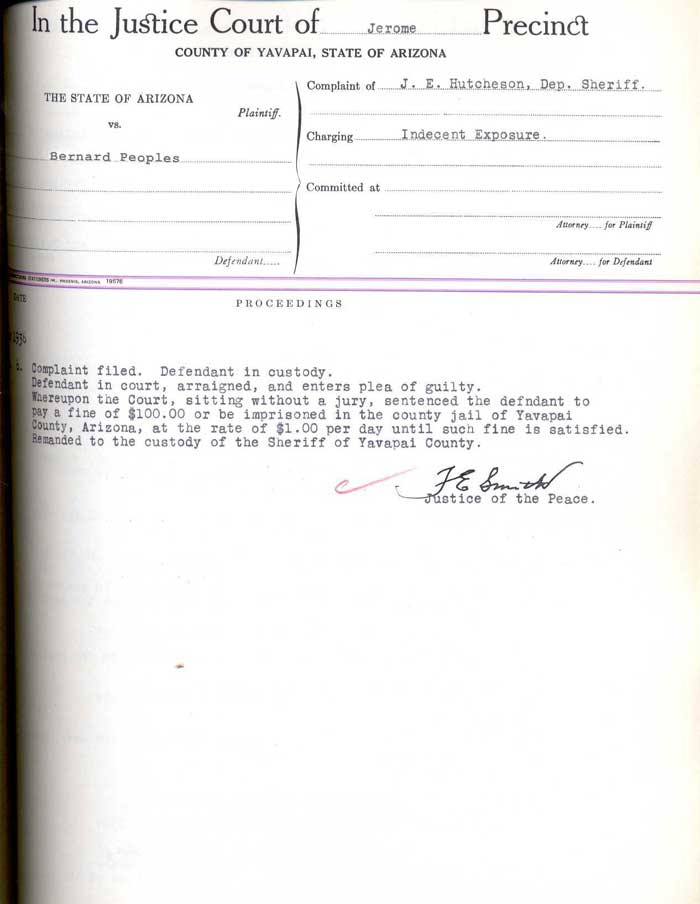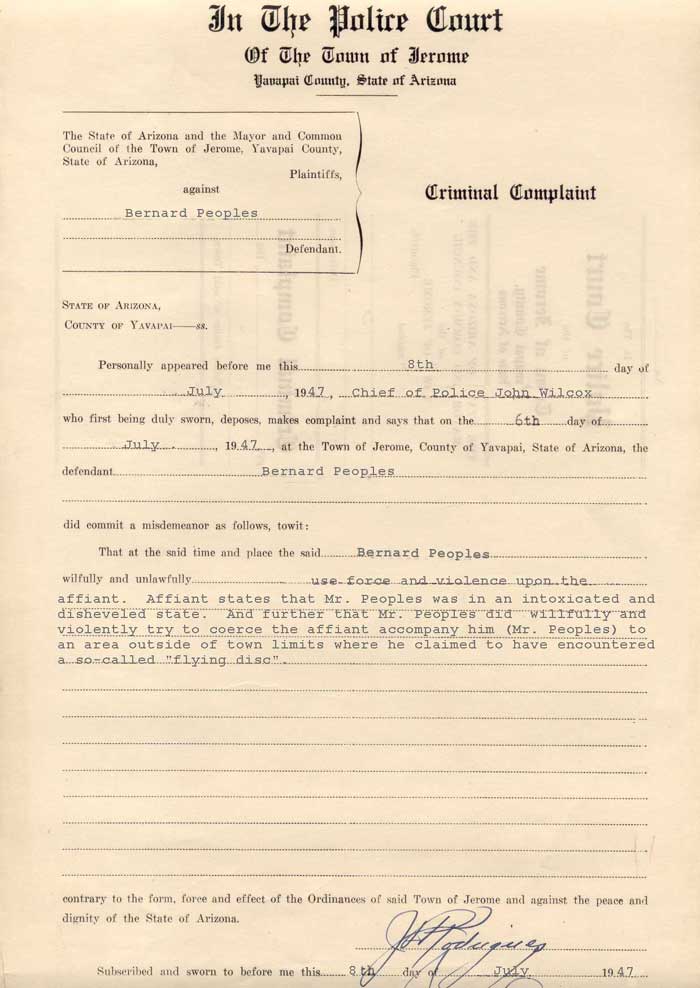 ---



(TRANSCRIPT FROM RADIO INTERVIEW 7/06/47- STATION KCRJ, JEROME ARIZONA - THE "SPEAK OUT!" SHOW)


ANNOUNCER: (Booming voice)

Have you had it up to here?! Are you tired of listening to the so-called authorities and experts who always get to clutter up the airwaves with their so-called facts and opinions?! Do you want a chance to make your voice heard?! Well, then you've tuned into the right spot on your dial.

The Amster Motor Company and Reese's Garage bring you, "Speak Out", with Tom "The Talker" Walker - a show where you can call in and tell people what you think! And remember - when you're looking for a good deal on a new Chevrolet, look no farther than the Amster! Now here's Tom.

TOM WALKER:

Good evening, folks. How are you all doing tonight? I'm fine and fit and ready to hear what you have to say. That's right. We've got our microphones rigged up so that people all over the Verde Valley can hear you when you call in. I just need to remind you to keep it clean. Your children might be listening. Yes, this is the show that stays up late and digs deep. No topic is out of bounds for us, because this is the land of the brave and the home of the free. And freedom of speech is our number one treasure. So let's exercise it!

That being said, we're going to do something a little different tonight. We have a guest in our studio here high atop Robinson's Jewelers. He's a man who has, according to him, just had an experience that, well, frankly, is out of this world. I'm sure many of you out there know him. Ladies and gentlemen, let me introduce Bernie Peoples. How are you doing tonight, Bernie?

BERNIE PEOPLES:

Not bad, Tom, all things considered.

TOM WALKER:

Now, Bernie, let's get right to it. If I understand you correctly, you are saying that you were taken aboard some kind of flying disc from outer space and given a ride. Have I got that right?

BERNIE PEOPLES:

That's right, Tom.

TOM WALKER:

And you met these space men.

BERNIE PEOPLES:

And women, Tom.

TOM WALKER: (chuckling) Were they little green space men and women, Bernie?

BERNIE PEOPLES:

Tom, I told you before the show started that if you started mouthing off or trying to make me look like some kind of fool, I was going to take you outside and bust you up. Now, what's it going to be? You want to hear this or not?

TOM WALKER:

Alright, alright. Take it easy, Bernie. Don't get all riled up. You got to admit, it's a pretty wild story.

BERNIE PEOPLES:

It's true. Every damn word I'm about to -

TOM WALKER: (interrupting)

You've got to watch your language, Bernie. You can't cuss on the air.

BERNIE PEOPLES:

I thought you said this show was about freedom of speech?

TOM WALKER:

It is, Bernie. But there's a difference between freedom and license.

BERNIE PEOPLES:

That's a bunch of bullsh---

TOM WALKER: (interrupting) Bernie! You want to tell your story or not?

BERNIE PEOPLES:

Alright, alright. I talk in here? (apparently indicating a microphone)

TOM WALKER: That's right. Go ahead and tell us your story, Bernie.

BERNIE PEOPLES:

Well, okay. Here it is. Three nights ago, I was coming back into town on Perkinsville Road. I'd been out ta quarry preppin the site for a blast in the morning. Must a been about nine. So, I'm coming around the curve that leads down past Father John's place when I see this bright white light coming up low over the ridge and headin north. At first, I'm thinkin that it's probably a private plane, but then I realize that don't make sense, cause it's moving too slow. So, I stop my truck to get a better look, thinkin maybe it's a helicopter or something. Now, I ain't seen one of those around here ever. So, I get out of the truck and really start eyeballin the thing. The first thing I notice is that it's not makin a sound. I check the wind to see if maybe it's blowing the sound away, but there's no wind. All the time, the light is drifting over in my direction. As it gets closer, I can see that it's some kind of flying craft alright, but it ain't nothing like I ever seen. It's about thirty feet across and it's shaped like a disc. It's like two plates one turned on top of the other. It's a shiny silver metal. Looks like polished chrome. On the bottom of it I can see three half dome type things, and I'm thinkin maybe those are the engines. Now, the thing's got no wings and no propellers. I never seen anything like it. I know it's not one of ours, cause during the war when I was in the Army Air Corp, I was in the Intelligence division and had a Top Secret rating. If we would had something like that, I woulda known it.

TOM WALKER:

You were in Army Intelligence?

BERNIE PEOPLES:

You want to hear this or not?

TOM WALKER:

Go ahead.

BERNIE PEOPLES:

So, as I was saying, I knew it weren't one of ours. Now, all the time it's getting closer. And I start to get a little worried. I'm thinkin, maybe the Commies built it. Maybe it's the beginning of an invasion. So I turn around to get back in my truck and go make a report when this beam of light, maybe eight feet across comes shootin outta the bottom of this thing and freezes me in my tracks. Now I am worried. If the Commies got this kind of gear then we're in trouble. Then suddenly, and as easy as you please, I start floating up off the ground up toward the bottom of this disc thing. Whatever it is and whoever's flying it are starting to kidnap me for Christ's sa -

TOM WALKER:

Bernie -

BERNIE PEOPLES:

Oh yeah, sorry. Anyway, so here I am floating up toward this thing when from out over the valley comes another disc lookin thing. It comes at us faster than one of them new jets and then stops dead about three hundred yards from us. Now, this new one's about twice the size of the one that's got me and before I can blink, it shoots out a beam of light and snatches me out of there. The next thing I know, I'm being pulled into the bottom of the bigger craft, where this hole opens up like a camera lens. Well, it puts me in this room about twenty feet across and twenty feet high. The lens closes and I'm standin there lookin around. Now, the room is empty except for me and the walls are all smooth metal givin off this kind of electric blue light. Then another one of these lens things opens in the wall off to my left and two people walk in.

TOM WALKER:

Two humans?

BERNIE PEOPLES:

Well, there you go. There was a guy and a girl. Looked to be in their late twenties, maybe. And they looked like us. Just like us. Except they were . . . well, they were perfect. They didn't have no wrinkles or moles or pimples or nothing. Their skin was as smooth as a baby's. And they were dressed in these white,one piece, skin tight, rubberized type jump suits, except for I couldn't see any zippers or buttons or anything. And they were . . . well, I'll just say it. They was beautiful. You just don't find people like that around here. I mean they looked like movie stars for cryin out loud. They had blonde hair and blue eyes and they started talkin to me, but they didn't use words. I mean, they didn't talk out loud. But I could hear them plain as day in my head. And I guess they could hear me.

TOM WALKER:

Wait a minute. You could hear them in your head?

BERNIE PEOPLES:

Yeah. Like, what do ya call it . . . telephathy.

TOM WALKER: Alright. If you say so. What were they saying, Bernie?

BERNIE PEOPLES:

Well, they were saying that they had just rescued me from some bad aliens who were going to abduct me and do medical experiments on me and maybe put some kind of implant in me and maybe insert anal probes. And then they put a picture in my head about what these other aliens looked like.

TOM WALKER:

What did the other aliens look like, Bernie?

BERNIE PEOPLES:

Well, they was small. About four feet tall and real thin, with these big heads and big black eyes and hardly no nose or mouth. And they were kinda gray in color. It was weird . . . (long pause - dead air)

TOM WALKER:

What happened then, Bernie?

BERNIE PEOPLES:

Well, somehow we ended up in this room . . . It looked like some kinda control room. There was a window, and seats, and some strange looking dials and things. And I could see out the window - kinda looked like a movie, though. Anyway, I could see the other disc flying in front of us. It was weird because I could see the land moving underneath us but I couldn't feel no movement in the craft we were in. I mean, when the other disc made a hard right and we followed, there weren't no shifting of your weight or nothing. Anyway, we were really moving. I noticed the White Sands proving grounds going underneath us. A couple of fighters tried to catch us but we just left them in the dust. Then the girl alien goes over to the control console, pushes some button, and blows the other flying disc out of the sky. Bam! Just like that. Thing goes spinning out of control. Saw it hit. Big old explosion.

TOM WALKER: (interrupting)

Bernie, Bernie, Bernie. Wait a minute. Hold on. You're saying you were on this space ship, and it shot down another space ship somewhere in southeast New Mexico?

BERNIE PEOPLES:

I'm glad to see you're paying attention, boy.

TOM WALKER:

Is there more to this story?

BERNIE PEOPLES:

A lot more. I still got to tell you about the trip around the Moon and about how they share their women.

TOM WALKER: (laughing out loud)

Well . . . hold on . . . wait. Let's take some calls first from our listeners and see if they have any comments or questions. Let me see (still laughing) . . . Yeah, here's someone. Hello. This is Tom Walker on "Speak Out". Who is this?

BUD VERKOVICH:

This is Bud Verkovich, and I just want to say that Bernie, Big Mouth, Peoples is the biggest damn liar that I ever met. He never was in the Army Air Corp, much less in Intelligence. He's hasn't got the brains God gave a tree stump. And all this malarkey about flying discs -

BERNIE PEOPLES: (interrupting)

Bud Verkovich, I am going to kick your butt down all the way down to Clarkdale!! Call me a liar?! You son of a bitch!! As soon as I'm done here -

TOM WALKER: (interrupting)

Bernie! Bud! Stop it! You can't talk like that on the radio!!

BUD VERKOVICH:

C'mon Peoples. I'll meet you outside Paul and Jerry's!! (starts clucking like a chicken)

(Bud Verkovich is cut off.)

TOM WALKER:

I'm sorry about that folks. I had to hang up on Mr. Verkovich. We just can't have that kind of language on our station. And Bernie, this is the last time I'm going to tell you. You can't cuss on the air!

BERNIE PEOPLES:

Alright, alright. It's just that idiot Verkovich -

TOM WALKER: (interrupting)

Okay. Let's take another call. Hello. You are on the air. This is your chance to "Speak Out!" Who is this and what do you have to say?

VOICE:

This is Colonel Goyt of Army Air Corp Intelligence. I've got two things to say, G.I. One: Bernie Peoples never served at any time in the United States Army Air Corp. Intelligence. And two: Take me off the air immediately and stay on the line for further information. That's an order!

TOM WALKER:

Wow! And how do I know if you are who you say you are?

VOICE:

I'm going to give you twenty seconds to screw your head on straight and talk to me off the air, or I'm going to cut your signal!

TOM WALKER:

What!? - (to Peoples) Bernie, hang on a second. Let me check this out. (to Voice) Hold on a minute while I switch phones.

(There are fifteen seconds of silence - and then Tom Walker is barely audible in another room.)

TOM WALKER: (muffled) Alright, now tell me what the hell is going on here.

(dead air for twenty seconds)


BERNIE PEOPLES:

Hello - testing - testing.

I hope this works. I'm pushing the same buttons he pushed. I hope you can hear me. I can see the light's on. Well, here goes, here's what happened after we shot down that other ship - They wanted to show me what a great space ship they had, so we flew out to the Moon. And I mean in no time. That Moon was right there, right now! Unbelievable. And we slowed down and they showed me their base on the dark side and it was huge. And then - Blam! - We're back here. Never felt no g forces or nothing.

And so when we got back they wanted to show how friendly they was, so they offered me a couple of their women. I mean these was some nice people. Anyways, so two of these perfect blonde movie star type girls take me to this other room. And it was like - well - it was like this huge air bed pillow thing - I don't know - Anyway, they took off their little jump suits right away and got all naked, and boy were they something. They had these big, really firm -
TOM WALKER: (yelling in the background)


What do you mean you're going to take me off the air? - - National security? - - What are you? - Listen, If there's some aliens from outer space visiting us, I think we all have a right to know!! Jesus Christ man! Do you know what this means?!!

(Pause while he listens)

What!??? - This is the United States of America, pal! You ever heard of free speech! Thomas Jefferson! Does that ring a bell, buddy! I took two in Iwo Jima so we could stay free!!

(Pause while he listens)

No - I - Yes, Betsy's my wife - What!!!? -

(Pause while he listens)

You son of a bitch!! You threaten me and my family! Hitler's dead,pal!! What are you? Some kind of fucking Commie!! I ought come over there right now and kick your -





(At this point the radio signal was cut and the station went off the air.)


---


(Excerpt from a polygraph test administered by Lionel Bachman on July 10, 1947. Subject: Bernard Peoples)


Series #1:

Question #R1:

On July 2, 1947, did you see a large glowing object hovering in the air above the town of Jerome, Arizona?

Answer: YES

Question #R2:

While you were standing under that UFO-like object, did you believe you were struck by an energy source emitted from that large object?

Answer: YES

Question #R3:

Did that energy source begin to pull you up toward that large object?

Answer: YES

Question #R4:

Did you believe that you were being abducted?

Answer: YES

Question #R5:

Did another UFO-like craft approach and interfere with your abduction by the first craft?

Answer: YES

Question #R6:

After being brought aboard the second craft into a large, blue-lit metallic room, did you see human-like creatures?

Answer: YES

Question #R7:

Did these human-like creatures tell you that the beings on the other craft were going to abduct and conduct medical procedures on you?

Answer: YES

Question #R8:

Did you then proceed to pursue the first UFO in the humanoids craft?

Answer: YES

Question #R9:

Did you observe the humanoids shooting down the first craft somewhere over what you judged to be southeastern New Mexico?

Answer: YES

Question #R10:

Did the humanoid creatures then return you to Jerome via their flying craft?

Answer: YES

Series #2:

Question #R1:

Between July 2 and July 4, 1947, did you use any drugs, either legal or illegal?

Answer: NO

Question #R2:

Between July 2 and July 4, 1947, were you hiding anywhere on the Perkins ranch?

Answer: NO

Question #R3:

Was the urine sample given to Dr. Kandell on July 5, your first voided specimen following your UFO experience?

Answer: YES

Question #R4:

Was this UFO incident a conspiracy to help Rick Rogers get out of his Allen Springs contract?

Answer: NO

Question #R4:

Did you conspire with anyone or act alone to stage a hoax about your UFO abduction?

Answer: NO


EVALUATION:

The results of Mr. Peoples' test showed a 98% positive for veracity. The only anomaly occurred in his answer about the "Allen Springs contract".

Lionel Bachman
Examiner



---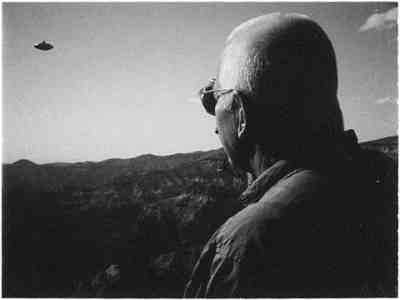 TSDIN/HMM/ig/6-4100



---


CONFIDENTIAL

A F F I D A V I T

STATE OF CALIFORNIA)

COUNTY OF KERN)

The following is a statement given by 1st. Lt. Joseph C. McHenry, Billeting Officer, Muroc Army Air Field, Muroc, California, statement given on 08 July 1947, to Mr. Thomas A. McMillan, CIC S/A. this station.

The following statement concerning the actual observance of what has been termed as a "flying Disc" or a "flying saucer" is true and correct and it will be noted that the above mentioned observance was made by me personally while enjoying complete health in mind and body.

On Tuesday 2 July 1947, at approximately nine-thirty A.M. (09:30) was in conversation with personnel in the Post Exchange Office. My part of this conversation was as follows:

"Someone will have to show me one of these Discs (sic) before I will believe it."

Upon leaving the Post Exchange, I went directly to my Office and before entering heard one of our local aircraft in the traffic pattern. Looking up, as I always do I observed the aircraft, and looked slightly to the left, whereupon I observed two (2) silver objects of either a spherical or disc-like shape, moving about three hundred (300) miles an hour, or perhaps less, as approximately eight thousand (8000) feet, heading at about three hundred twenty degrees (320) due north.

When I first observed these objects I called S/Sgt. Gerald E. Nauman, T/Sgt. Joseph Ruvolo and Miss Jannette Marie Scotte who immediately came to where I was standing. I pointed in the direction of the objects, and asked them the question "Tell me what you see up there." Whereupon, all the three (3) with sundry comments stated, "They are flying Discs". To further verify my observance I asked them to tell me in what direction the objects were traveling, without indicating their direction myself, and again, all three (3) in a consistant nature stated that the objects were moving toward the Arizona border.

I had time to look away several times and renew my vision of the objects to make sure that they were not any results of eye strain, or in any nature an optical illusion. The objects in question were not repeat, were not aircraft, the objects could not have been weather balloons released from this station, since they were traveling against the prevailing wind, and since the speed in which they were traveling, disqualified the fact that they were weather balloons.

After the observance of these phenomenon and hoping that I might have time to enlist further witnesses, I immediately ran into the dispensary to get personnel who are Medical Officers to verify, for my own curiosity, the actual observance of these objects, but by the time I reached the back porch seven (7) other personnel were with me, the objects had by that time, disappeared, due to the speed with which they were traveling. Upon further investigation, two (2) of us at the same time sighted another object of a silver spherical or disc-like nature at approximately eight thousand (8000) feet, traveling in circles over the North-end. I called the objects to the attention of Mrs. Naum and pointed it out to the other personnel standing near by. All of us saw the object, with the exception of two (2) out of seven (7) personnel. All of us looked away from the object to make sure there was no eye strain or from permitting the object to become an optical illusion.

From my actual observance the object circled in too tight a circle and too severe a plane to be any aircraft that I know of. It could not have been any type of bird because of the reflection that was created when the object reached certain altitudes. The object could not have been a local weather balloon for it is very impossible that a weather balloon would stay at the same altitude as long and circle in such a consistant nature as did the above mentioned object.

I am familiar with the results of too constant vision of the sun or any bright object and am aware that optical illusions are possible and probable. I wish to make this statement that the above mentioned observance was that of actual subject matter.

This statement has been given freely and voluntarily without any threats or promises under duress. This statement consists of two (2) pages, and is the truth to the best of my knowledge and belief. I have initialed all corrections deemed necessary.

s/s joseph c mc henry

1ST. LT. JOSEPH C. MC HENRY, AC

WITNESS:

s/s thomas a. mc millan
THOMAS A. MC MILLAN








---








CONFIDENTIAL

A F F I D A V I T

STATE OF ARIZONA)

COUNTY OF MARICOPA)

The following is a statement given by Capt. Kenneth Boggs , Flying Instructor stationed at Luke Air Base , statement given on 08 July 1947, to Mr. Thomas A. McMillan, CIC S/A. this station.

The following statement concerning the actual observance of what has been termed as a "flying Disc" or a "flying saucer" is true and correct and it will be noted that the above mentioned observance was made by me personally while enjoying complete health in mind and body.
     On July 2, 1947 I was an Instrument Flying Instructor assigned to the 6th Ferrying Group of the Air Transport Command and based at Luke Air Force Base outside of Phoenix, Arizona. My daily routine consisted of flying 2, 2 hour instructional periods in the morning with a different student for each 2 hours. On one flight while proceeding on the northwest leg of the northern Arizona over the Verde Valley - radio range at 5000 feet altitude at the normal cruising airspeed of a BT-13A type trainer, my student and I witnessed an object at this point which to this date defies logical explanation.

     This object appeared from the northeast on a level flight path and turned while decelerating from a great speed to fly parallel to us for approximately 30 seconds before it disappeared from view at a slight climbing attitude (5 degrees) bearing to the right across out ship's nose and at speed which I can now estimate to be between 2000 to 5000 miles per hour.

     It is difficult to reconstruct the appearance of the object in detail because it all happened so fast, but a few prominent facts are still clear and vivid in my mind. They are:

1)   This incident occurred above a fog overcast with clear and unlimited sky condition above.

2)   The object was an International Orange in color, had an elliptical or rounded forward structure, was proportioned in a manner as a conventional aircraft's fuselage.

3)   The rear of the object either had no significance or I am unable to remember its profile.

4)   No propellers or jet orifice were visible; nor was any flame, smoke or vapor trailed.

5)   It decelerated in an unstable manner. (IE) Wobbling outward from its banked attitude while turning and dipping longtitudinally up to ten degrees from its flight path.

6)   It flew exactly abeam at our altitude and while in this position exhibited no other motion than the identical forward speed of our ship.

7)   Its departure from the area also appeared unstable at the start of its acceleration. It seemed to lurch forward with the rearward portion wobbling until its direction was established.

8)   From its position abeam to ten degrees to the right of our nose and five degrees high until out of sight took approximately one and one half second.

      A series of unusual events contributed to the fact that this object made no striking impression on my student and me. There had been a rumor at this time that Lockheed Aircraft Company were building a jet aircraft and we thought we had witnessed the flight of it. I learned later that the first flight of the Lockheed P-80 did not take place until over a year from this period of time.

     Furthermore, I had a camera in the aircraft at this time and although it was hanging on the 'oil dilution' control nob and ready to use, I did not use it for fear of photographing a highly secret aircraft.

     I can (remember) telling the student through the intercom: "Come out from under the hood. Lockheed's jet is flying formation with us."

     The student pushed back the hood and both of us witnessed the object flying alongside and its flight out of sight. Then the student went back under the hood and the episode was ended. In retrospect, I believe the fact that neither of us at that time attached anything unusual about it must imply that it resembled something which would have encompassed known aerodynamic outlines. Until I first witnessed an early flight of the P-80, I was under this impression. Immediately upon seeing the relative slowness of the P-80 and its easily identifiable outlines, I realized we had witnessed some inexplicable object...."






(photos allegedly taken by Bernie Peoples)



---


CONFIDENTIAL

SECRET

HEADQUARTERS
AIR MATERIAL COMMAND


IN REPLY ADDRESS BOTH
COMMUNICATION AND EN-
VELOPE TO COMMANDING
GENERAL, AIR MATERIAL
COMMAND, A T T E N T I O N
FOLLOWING OFFICE SYMBOL:

TSDIN
TSDIN/HMM/ig/6-4100
WRIGHT FIELD, DAYTON, OHIO
10 September 1947
| | | | | |
| --- | --- | --- | --- | --- |
| | SUBJECT: | | AMC Opinion Concerning "Flying Discs" | |
| | | | | |
| | | | | |
| | TO: | | Commanding General | |
| | | | Army Air Force  | |
| | | | Washington 25, D.C. | |
| | | | ATTENTION: Brig. General George Schulgen | |
| | | | AC/AS-2 | |
1. As requested by AC/AS-2 there is presented below the considered

opinion of this command concerning the so-called "Flying Discs." This
opinion is based on interrogation report data furnished by AC/AS-2 and
preliminary studies by personnel of T-2 and Aircraft Laboratory, Engineer-
ing Division T-3. This opinion was arrived at in a conference between
personnel from the Air Institute of Technology, Intelligence T-2, Office,
Chief of Engineering Division, and the Aircraft, Power Plant and Propeller
Laboratories of Engineering Division T-3.

2. It is the opinion that:


a. The phenomenon is something real and not visionary

or fictitious.

b. There are objects probably approximating the shape of a

disc, of such appreciable size as to appear to be as large as man-made
aircraft.

c. There is a possibility that some of the incidents may be

caused by natural phenomena, such as meteors.

d. The reported operating characteristics such as extreme

rates of climb, maneuverability (particularly in roll), and motion which
must be considered evasive when sighted or contacted by friendly air-
craft and radar, lend belief to the possibility that some of the objects
are controlled either manually, automatically or remotely.

e. The apparent common description is as follows:-