The Haight (Act III)
CUT TO:

INT. HOWIE'S BATHROOM - NIGHT

Darrell, Guy, and Ginger are in the process of shooting speed. Ginger sits on the toilet with its seat down. Her eyes shine with a sexual energy. She is still beautiful, but thinner than the last time we saw her. Darrell stands in the bathtub, shifting back and forth on his feet, watching Guy. By the speed of his dialogue we know that he's already wired to the gills.
DARRELL
(babbling)
You got four ounces of this stuff, huh? I should be able to help you move it. You're not going to cut it, are you? You should leave it like it is. I can get you premium dollar. I'll help you break it into bags. What do you wanna do - grams? - eights? - quarters? Whatever you wanna do, I'll help you. I can't believe Taco fronted you the whole pound. Is he coming up? Probably not, knowing -

Guy laughs again and interrupts Darrell.
GUY
Jesus, Darrell! Shut the fuck up! Why don't you go make some calls and see what you can do.
DARRELL
Yeah, okay, that's a good idea. I know some musicians who'll eat this up. These guys are crazy for it. Then there's those guys over in North Beach. And maybe -

He steps out of the tub and opens the door to leave. Guy interrupts again.
GUY
When did you say CHRIS and Gerry will be back?
DARRELL
- Tomorrow - and maybe those strippers over in the Tenderloin. Listen, I'll make some calls and -
He begins to close the door.
GINGER
Darrell, check on Bobby will you? Make sure he hasn't fallen out of bed or something.
DARRELL
Yeah, sure, no problem, sure thing, and then I'll make some calls and -

He closes the door and leaves.

CLOSE ANGLE ON GUY AND GINGER


Guy has finished with Ginger and pulls out his spoon to cook himself up a hit. He sits on the edge of the tub. Ginger, eyes still glowing with sexual energy, slips out of her slinky dress. She's naked underneath. She kneels in front of Guy, undoes his belt and unzips his pants. As she begins to go down on him, we -

CUT TO: TRACKING SHOT OF DARRELL

He walks down the hall from the bathroom, stopping at a closed door. There is a sign on the door.

CLOSE ANGLE ON DOOR

The sign reads, "Monks at Work - Do Not Disturb". Darrell looks at the sign, looks around, sees no one is watching, and reaches for the door knob. He opens the door a crack and peeks in. We do not see what he sees. He closes the door with a very perplexed look on his face. Something here is beyond his understanding. He closes the door quietly and proceeds down the hall and looks in another room with its door already open.

POV DARRELL

We see Bobby, Ginger's son. He is blonde. About the same age as Billy. He is fast asleep. We hear people talking in the b.g.

ANGLE ON HALLWAY

Darrell turns and walks toward the sound of voices coming from the kitchen. We hear Howie. He is angry.
HOWIE
They're full of shit! I'm fed up with these so-called Berkeley radicals trying to politicize what we're doing here. Fuck 'em!. They haven't got a fuckin clue. This isn't about politics, for Christ sake! This about changing peoples' understanding of their fuckin lives!

ANGLE ON KITCHEN

Darrell enters to find Howie, Anne, and Slagge sitting at the kitchen table. Emmett stands over by the sink.
HOWIE
And the god-damned media! Shit! They're trying to co-op this whole damn thing by turning it into some middle-class, free love, wet dream.

Darrell goes over to a phone hanging on the wall.
Darrell dials a number.

DARRELL
(into phone)

Measles? Listen, I got some incredible speed. Yeah. Uncut. Pharmaceutical. Yeah (pause) From England? Groovy. A ride? Yeah, I guess. Where do they need to go? (pause) Alright. How much do you want?

EMMETT
(responding to Howie)

And they'll succeed unless we flood this country with acid. If we don't get ahead of them, it won't be long before we see paisley hula hoops, hippy sunglasses, levis bell bottoms -

<![if !supportLineBreakNewLine]>
<![endif]>

HOWIE
(noticing Darrell on the phone)

Darrell. I want Guy and Ginger out of here by tomorrow. I hate speed freaks.

DARRELL

Hold on a minute. (to Howie) Yeah, yeah. Don't worry. They're going over to CHRIS's in the morning. (into the phone again) I'll check with Guy on the price for that amount. Maybe, he'll cut you a deal. (pause) Yeah, I'll be right over. (pause) Yeah, I'm on my way.

Slagge and Anne stand up. Slagge walks over and shakes Emmett's hand.

SLAGGE

It's been nice meeting you. We're leaving for Phoenix tonight and when we get back there, I'm going to talk to some people about those hula hoops. If I get it going, I'll make sure you get ten percent.

Anne gestures to Darrell and silently mouths the words "Get me an eightball".
CUT TO: INT. STAIRWAY - NIGHT

Darrell bounds up a dark stairway in an old apartment building. At the very top, he approaches a door, knocks, and then enters without waiting.

INT. APARTMENT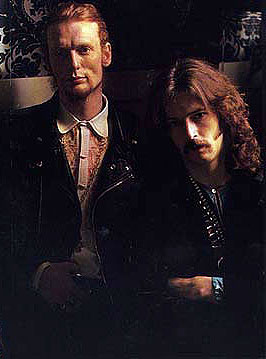 It's Measles' apartment. Darrell walks quickly through the empty living room into the kitchen. Cathy and Measles are there with two strangers. Both men are extremely thin. One has curly red hair and a clipped Vandyke beard. His long hair is pulled up on top of his head in a top knot. His face is so thin as to be skeletal. He wears (for the first time in the film) a paisley shirt, tight pants, and high pirate-type black boots. He is grinning from ear to ear. The other man has long dark hair and a moustache. He wears an expensive long leather coat and pants. Darrell hands Measles a small plastic bag containing the meth and Measles hands him a wad of cash.
DARRELL
(indicating the strangers)
These the guys that need the ride?`

Measles steps forward, starting to introduce the two, but the one with the red hair interrupts him.
RED
(in a thick English accent/pointing to his friend)
This is . . ah . . Derek . . yeah . . Derek. (he sticks out his hand to shake) And I'm Clive.

Cathy rolls her eyes.
CATHY

Everyone in the room knows that the charade is pointless, because everyone recognizes the two men.
DARRELL
(to Measles)

Sam enters from his bedroom.
CATHY
(into phone)

Over to the Crystal Palace. You know, over on Page. Around the corner from your place

SAM
(to Clapton and Baker)

Remember. 4:00 tomorrow for the sound check. (he smiles) Please, please be there.

MEASLES

It's that old Victorian with the chair nailed to the front porch roof.

RED

Don't worry, son. Rain, hail, sleet, or snow couldn't keep us from doing our sacred duty. Isn't that right, Derek?

DARRELL

Oh yeah, I know where you're talking about.
CUT TO:

INT. DARRELL'S VAN - NIGHT

Darrell is driving. The two rockers are in the back, on the floor, passing around a bottle of Jameson's. They are trying to compose a song. It's a variation on an English pub ditty about having a baby so small that it gets washed down the bathtub drain. As they sing we -

CUT TO:

EXT. PAGE STREET - NIGHT

It's late. Most of the other houses on the street are dark. It's easy to see which one is the Crystal Palace. It's lit up like a slot machine. It's a large, three story, very ornate Victorian. On the steep roof over the front porch someone has nailed a straight-backed wooden chair that leans so precariously forward that you couldn't sit on it without hanging on for your life. There is a young man sitting on it, his hands white knuckled holding himself down to the seat, looking out at downtown San Francisco. Even though it's a perfectly calm night, he looks as if he is in a wind tunnel. He leans forward, teeth clenched. Darrell pulls up in his VW van. He and the rockers (still singing) pile out and walk up the stairs to the front door.

TRACKING SHOT

We follow the men through the open front door. The living room, although brightly lit, is empty. We hear voices from the kitchen. Upon entering -

THE KITCHEN

we see two young men and three girls in their late teens. "Waiting For My Man" by the Velvet Underground roars on the stereo. It seems as if everyone in the kitchen is talking at once, and no one is listening. The females are the first to recognize the rock stars. One very thin girl, whose clothes just seem to hang off of her, jumps up and comes over to Red, continuing to talk.
GIRL
Oh, I know who you are! You guys did that song, "I Feel Free". I love that song. You guys are great!
RED
I'm sorry, luv, you got us confused with -
GIRL
(interrupting)
Oh, stop! We're all cool here. And we got some great shit. I got a really clean fit . . .

The other two girls are just a little slower to react, but they both come on to the other rocker right away, drawing him over to the table where the boys are cooking up the hits.

ANGLE ON DARRELL

Looking at the strung out speed freaks that inhabit the Palace, Darrell gets a troubled look on his face. The young men at the table are painfully thin, their skin, white and pasty, their eyes, haunted. One holds his lighter under the spoon, watching the dope bubble. The other looks on hungrily.
DARRELL
(to Red)
Hey, listen. I'm going to split. Catch you later.

No one really hears him. They all continue with their cooking and jabbering.

CUT TO:

EXT. STREET - NIGHT

Darrell comes walking quickly out of the house and down the steps. When he gets to his van he looks back up at the man on the roof.
DARRELL
(yelling to the man)

TIGHT C.U. OF MAN ON THE ROOF

His hair is plastered back on his head. His chin juts forward and his jaw muscles are knotted up. His eyes are bugging out of his head. In the b.g. the lights of the city dance and sparkle.
MAN IN CHAIR
(whispering)

CUT TO: EXT. GOLDEN GATE BRIDGE - DAY

Approaching the bridge from the Sausalito side we see CHRIS's milk truck. It's a beautiful day on this side of the bridge - the blue sky, the elegant bridge, the shining bay. We hear the radio in the truck.
ANNOUNCER
(through light static and hiss)
- headlines on the hour. In Viet Nam today another division of Marines arrived as the war continues to escalate, despite assurances from the administration that the Viet Cong insurgents are on their last legs. And in the Watts section of Los Angeles, new rioting has broken out as -

CUT TO: INT. MILK TRUCK - DAY

RON is driving. Sally stands next to him. He leans over and turns down the radio. He points to the city across the bridge.
RON
(to everyone)

CHRIS and Gerry are lying on a mattress in the back of the truck with Billy and Jon. They sit up and look across the bridge.

POV GROUP

Although the sun is shining everywhere around them, across the bridge the city is entirely shrouded is a thick fog bank. We can't see one building, just a large, dense, gray cloud lying on the city like a blanket.
GERRY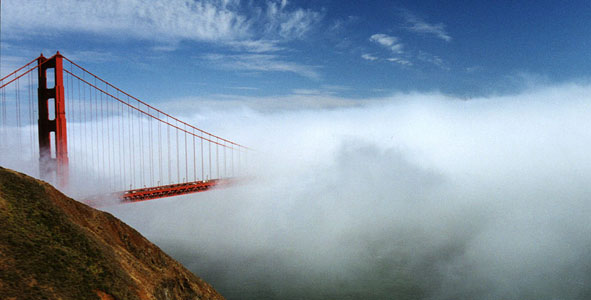 BILLY
Mommy. How come that cloud is on the gwound?
CHRIS

ANGLE ON GROUP
We can see that CHRIS's explanation doesn't satisfy Billy, but suddenly there is a loud metal banging from the engine of the truck. Obviously, something major has happened. They are on the middle of the bridge. The engine does not seize up and stop, but a large cloud of white smoke starts spewing out the back.

POV GROUP

Although the sun is shining everywhere around them, across the bridge the city is entirely shrouded is a thick fog bank. We can't see one building, just a large, dense, gray cloud lying on the city like a blanket.
RON

Oh shit!

GERRY

What's that?!

CHRIS

Trouble!

RON

We threw a rod or blew a piston or something!

CHRIS

Or something! Let's see if we can get home before it blows completely.


CUT TO: WIDE SHOT OF THE BRIDGE

We see the truck, spewing a large cloud of white smoke, enter the fog bank and disappear.

DISSOLVE TO:
EXT. HAIGHT STREET - DAY

The milk truck turns on to Haight from Stanyan. The street is even more crowded than before. Cars are bumper to bumper, moving at a crawl. The sidewalks are packed. Tourists look out from the safety of their locked cars as if they were watching bears in Yellowstone Park. Flashbulbs go off randomly. Most of the young people on the street ignore the gawkers, but every once in a while, one of the more loony and colorfully dressed members of the community will jump out into the street and do a dancing bear act. We see one man, just ahead of the milk truck, jump onto the hood of a family's car and make goofy monkey faces at the people inside.

POV GROUP IN MILK TRUCK

Up ahead, on the right, a troop of ragged looking Hell's Angels have parked their bikes outside of a bar. They stand around yelling back and forth to the people in their cars. One biker turns, drops his pants, and moons the tourists.
CHRIS
(b.g)
Jesus. It's really getting out of control.
ANGLE ON SCENE

As the truck moves down the street, we see Measles and Cathy being accosted by a television crew. As we draw closer, Gerry leans out the passenger door and yells to Cathy.
GERRY
Hey, Cathy, what's going on?!

Cathy and Measles are standing next to a t.v. news announcer who looks extremely out of place with his very short hair and conservative suit. He is holding his microphone and facing his camera and sound men. Cathy looks up when she hears Gerry and waves happily.
CATHY
Hey, you guys! We're going to be on T.V.!

CLOSER ANGLE ON NEWS ANNOUNCER

He looks seriously into the camera.
ANNOUNCER
RON Stillman here. KHHK News. In the heart of Haight Ashbury. Who are the hippies? What do they want? Are they, in fact, the vanguard of a social revolution that will sweep all the time honored values of Western Civilization before them in a psychedelic deluge as they loudly proclaim with the catch words of Free Love and Peace? Or are they, in fact, self indulgent, drug taking middle class drop outs who would rather party their lives away than take on the responsibilities of growing up in a complex and demanding world. We have come here to find out. (turning to Cathy who smiles and waves into the camera and then to Gerry) Excuse me, Miss. What is it like being a hippy?

She looks up at him with all the innocence that her nineteen years can muster.
CATHY
Beats the shit out of me, RON.

This is obviously the last answer he expects. He stares at her with his mouth open for a second. Measles steps in quickly and snatches the mic away from him and addresses the camera.
MEASLES
You're probably all wondering why I called you here -

The announcer grabs the microphone back from him.
ANNOUNCER
(to cameraman-irritated-waving his hand)

ANGLE ON MILK TRUCK

It turns the corner onto Clayton and goes up the hill to their apartment. turning the corner at Waller, we see Guy, Ginger, and Bobby sitting and standing around the open door of Guy's green and white VW window van. The milk truck pulls up in back of them and parks.

CLOSER ANGLE ON GUY'S VAN

Gerry runs up and hugs her twin sister, very happy to see her. Billy and Jon run up to Bobby. The two little boys look at each other, and, for some unknown reason, just start laughing. They continue to laugh and babble at each other as RON and CHRIS walk up. Everyone hugs and says hello. There is genuine love here. These people have tripped together, and it has created a kind of bond that few things will. Guy is holding a hard shell guitar case.

CLOSER ANGLE ON GUY

His face is getting that white pasty look that we saw earlier on people at the Crystal Palace. He continues to stroke his damp moustache in a nervous gesture. He is never still.
ANGLE ON RON AND CHRIS

As they walk through the apartment house door and up the stairs to their place, RON and CHRIS exchange looks. They recognize immediately that Guy and Ginger are on a speed run. They know it means trouble. The little boys and Jon race by them and up the stairs.
RON
Losing the truck is going to set us back. Rent's due next week. If we can't haul shit, we're going to have to come up with something quick.
CHRIS
Yeah, I know. (he turns and smiles slyly at RON) You know what we gotta do.

RON reads his mind, and they both speak at the same time.
RON

We'll deal dope!

CHRIS

We'll deal dope!




They laugh and give each other five.
RON
Yeah, and I know just the guy to see.

CUT TO:
EXT. HAIGHT STREET - DAY

CHRIS and RON thread their way through the circus scene on the street. We see our first blacks on the street - young males up from the Fillmore, strutting around, emanating anger and possible violence. CHRIS and RON enter a coffee house.

CUT TO:

INT. COFFEE HOUSE -DAY

The cafe has two levels. The floor level is conventional enough. It looks like an old soda fountain. White tile floors, a counter with stools, round oak tables with bent metal chairs. Something out of the forties. RON and CHRIS walk up a set of stairs to a loft area that overlooks the main floor.
ANGLE ON LOFT

The loft area is very different from below. The tables are low to the ground. Everyone sits on cushions on the floor. Tapestries are draped overhead, giving the place a tented look. It's as if, suddenly, we are somewhere in North Africa. The clientele does not dispel that feeling. We have obviously stumbled into dealer central. RON and CHRIS enter the loft. RON scans the area, spots the person that he is looking for, and walks over to a table. CHRIS follows.
ANGLE ON TABLE

Sitting there is a sixteen year old boy with long straight brown hair. He has an androgynous look - flawless complexion. Next to him sits a blonde nymphet who can't be more than fifteen. RON and CHRIS sit down. The boy takes two small espresso cups from a china tray and pours some thick coffee from a brass decanter. Introductions are made. The boy is ANGEL. The girl is GINA. She is smiling. There is a purity of heart about her. The boy may have the name, but she is truly an angel. An unselfconscious joy emanates from her. She is most herself in this community where love has value. She is unaware that her loving nature makes her all that more beautiful.
ANGEL
So, what can I do for you boys?
RON

Angel nods toward various tables as he talks, and we realize how exotic our surroundings are.
ANGEL
The guy over there with the long blonde curls and African dashiki has got pounds of black Moroccan hash. Overpriced, but then he had to bribe his way out of a Moroccan jail. (Angel shrugs) Those two old guys with him (two bearded men in their thirties in white arab robes) are with the Mystic Arts Brotherhood in Laguna. They just came overland from Afghanistan with gallons of hash oil. It's the new thing out of Kabul.
ANGLE ON ROOM

As Angel talks, the camera moves around the room, spotlighting various people. It's a room full of outlaws, many of whom dress the part.
ANGEL
(b.g.)
Those guys with the embroidered Huicholy outfits just got back from Jalisco. They got pounds of mushrooms. Very high quality. (he chuckles) Huh, baby? (Gina laughs softly) Good prices, too.
CHRIS
(interrupting)
How about kilos of good weed?
ANGLE ON BACK ON TABLE

As Angel talks, he fills his cup with the thick coffee.
ANGEL
(smiling)
Well, that would be me. I can get you good Mexican for seventy-five a kee. No stems, no rocks or golf balls to boost the weight. Mostly bud.
CHRIS
Seventy-five? That's kind of high.
ANGEL
(shrugging)
You know how it is - the further from the border - the higher the price. Still, it's not bad. You pull 37 oz's at $10 a pop, you're still clearing about three bills.
RON
(to CHRIS)
Two kee's will cover the rent, give us a stash, and some spending money. I say we go for it.
CHRIS
(to Angel)

Angel smiles, lifts a cigarette case from the table, and opens it. It's fully lined with fat joints.

CUT TO:

C.U. OF A MARTIN D-28

Guy's fingers dance across the strings. He is playing "Anji" by Bert Jansch. It's beautiful, haunting melody, and Guy plays it perfectly - early speed run perfect. Not one wrong note or buzzing string. The Martin rings out in the room - the only other sound is that of wood burning in the fireplace. The hardwoods of the guitar glisten in the firelight.
ANGLE ON DINING ROOM - NIGHT

Guy sits at the large oak dining room table. Ginger sits next to him, watching and listening. Gerry sits in an overstuffed chair over by the bay windows doing the same. Jon lies in front of the fire on a Persian throw rug. As he finishes the piece, we hear RON and CHRIS coming up the stairs. The spell is broken. Ginger leans over and kisses Guy. Jon looks up, wagging his tail.
GINGER

Guy smiles sweetly and takes a cigarette out of a pack on the table as RON and CHRIS come in the room. CHRIS carries a bag.
ANGLE ON CHRIS

On closer inspection, it's obvious that time has passed. CHRIS's hair is noticeably longer, as is RON's. They both sport facial hair, giving their features an older cast.
CHRIS
(swinging the bag on the table with a thud)
We're starting to get this whole thing down. Time for another kilo party!

He sits down next to Guy. RON sits across the table. CHRIS takes a compressed kilo of weed from the bag and lays it on the table. He looks at Guy with a concerned expression.
ANGLE ON GUY

On closer examination, we can see that Guy has lost weight. There is a real pallor to his face. He smiles faintly at CHRIS and stands up. As he walks back toward the bathroom, CHRIS looks over to Gerry.
CHRIS
How often has he been hitting it today?
ANGLE ON ROOM

Gerry looks at Ginger, who has also gotten painfully thin, and then back to CHRIS.
GERRY

Ginger stands up.
GINGER
Don't start in, you guys. He can handle it. We both can.
CHRIS
(unable to contain himself)
Ginger, look at yourself, for Christ's sake! You look like death warmed over!
GINGER
I knew this would happen. Guy was right! He said you guys would turn on us! You just don't understand. You want everybody to be just like you. You can't stand it when someone goes beyond what you understand. We're getting in touch with real magic and you're afraid of our power! You're all part of a conspiracy -

Gerry stands up and walks over and gets in Ginger's face.
GERRY
Ginger! Stop it! The speed is fucking you up! You're talking crazy!

By this time, the loud voices have awakened Sally, who comes into the dining room wearing one of RON's shirts. She goes over to RON sleepily and hugs up against him. She has cut her hair very short, and it sticks out all over like a punk cut.
ANGLE ON GINGER AND GERRY

Gerry is holding Ginger by the shoulders. This close together, it's even more obvious how Ginger has deteriorated compared to her twin. Gerry talks to her softly.
GERRY
You know that I know exactly how you feel. You know that. I always have. And I know it's not good. You've got to stop!

Ginger looks at her for a second and then starts to cry. She pushes Gerry away, suddenly, gets up, and runs down the hall.
GINGER
You guys are all against us! Leave us alone!!
ANGLE ON TABLE

CHRIS is starting to break up the compressed kilo so they can bag it into ounces. He is shaking his head. RON leans over from across the table.
RON
Hey, just because you're paranoid doesn't mean -
CHRIS
(meeting RON's eyes)
- that they're not out to get you?

CUT TO:

EXT. STREET IN front OF MEASLES' APARTMENT - DAY

Measles, Cathy, and a couple of other long hairs are in the process of painting Measles' white, 51 Ford. The style is psychedelic graffiti. Flowers, mystic symbols, abstract swirls, pop slogans like "Make love, not war!", rainbows, sunbeams, etc.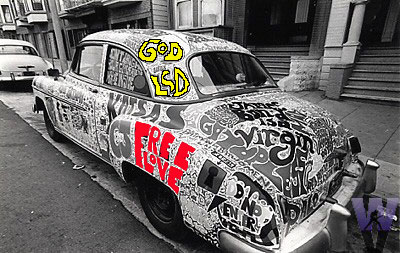 Darrell pulls up in his van, climbs out, and walks over, laughing. Measles looks up, paint all over his face, brush in hand.
MEASLES
DARRELL
(coming in close and pinching both of Measles cheeks at once)
It's just beautiful! You're a genius!

Gino comes down the steps from the house and says a cheerful good morning to everyone. He, too, laughs at the car but with good humor.
GINO
That's what I like about you, Michael. Always low profile. No one would ever suspect that deep inside you're such a freak. Cathy, where did you find this guy?

Cathy looks up from painting a heart with wings.
CATHY
GINO
(laughing)
Oh, yeah. Well, see you guys later. I'm going down to the office.
MEASLES
(laughing)
You want a ride, man? We were just about to go get some gas.
GINO
(laughing)
No thanks. I'd rather walk. (heading down the hill) See you later.

CLOSER ANGLE ON DARRELL

He leans forward and paints a small star of David on the rear fender with the paint on his fingers from Measles' cheeks.
DARRELL
(laughing)
I got that gram you wanted.

Measles finishes a yin/yang symbol, puts his brush and can of paint in a box in the open trunk of the car, closes the trunk, and walks around to the driver's door.
MEASLES
(laughing)
Great. C'mon, let's go for a ride.

CUT TO:

INT. MEASLES CAR - DAY

The radio is on. Eleanor Rigby by the Beatles is playing. Measles is in the middle of an idealistic rant.
MEASLES
The media is where it's at. We have to infiltrate the media. It's the only way to affect people in any major way. We have to get the message out, man. We have to reprogram this entire country so that it runs on love and not fuck your buddy competition. This whole civilization is going to flush itself down the crapper unless it entirely reorders its priorities.

CUT TO:

INT. MEASLES CAR - DAY

By this time, the have gone down the hill into the all black Fillmore district. Measles is driving. Cathy sits next to him. Darrell sits next to her. They pull up to a stop light. Next to them is a carload of young black males. It's the summer of '67 and the black community is boiling over. Anger and potential violence emanate from the men in the car. Darrell looks over at a group of black faces staring back at him. It seems as if they would just as soon cut him up as look at him. He sinks down a little in his seat. Measles doesn't even notice. He's on a roll.
MEASLES
I mean, think about it. Imagine the power the Beatles would have if they came out and admitted that they're taking acid. Christ, it's obvious from their last album. Their influence for change would be enormous. We got to get the message out. (he looks over to Darrell and then to the blacks next to them. He addresses the men, not intimidated at all.) Hey, how do you like my paint job?

The driver looks at him stonily and then lets his gaze drift along the car. He tries to keep a straight face, but when he sees all the crazy images and colors, he starts cracking up. The light changes. The black men start to pull away.
BLACK DRIVER
(yelling and laughing0

Measles flashes him the peace sign and pulls through the intersection. The Beatles' song comes to an end, and the excited announcer comes back on.
MEASLES

I think that was a compliment . . . I think.

DARRELL

You're going to have a tough time convincing people like that, that love and brotherhood are in their best interests.

MEASLES

Well, that's the whole point. If we don't succeed, we're going to have all the major cities in this country burning down around our ears.

ANNOUNCER

Well, it's been over a year now since the Beatles released an album and the rumors are flying. The new album is due out any day now, and, as soon as we get it, we'll be playing it in its entirety. Insiders say that their new album is going to be unlike anything you've heard yet. And now a song by another British group, Procol Harum. If anybody out there understands the lyrics to this one, call me.
"A Whiter Shade of Pale" comes over the radio as a carload of what appear to be fraternity boys passes them on the right.
MEASLES
I'm telling you, if we can reprogram the media, we can reprogram the country.

The boy in the rear of the car rolls down the window and spits at Darrell.
WHITE BOY
(face distorted in hate)
Fuck you! You fucking hippies!
DARRELL
(wiping the spit from his face)
You got a lot of reprogramming ahead of you, man.

CUT TO:

INT. ORACLE NEWSPAPER OFFICE - DAY

Editor Cohen stands at his second story window looking down on the impossibly crowded street scene. Gino sits in a chair with wheels, his feet up on the desk.
COHEN
(his hair pulled back in a short pony tail)
- I know. The time has come to get out of the city. It's gotten out of hand. I'm dedicating the whole next issue to the establishments of communities on the land.

CUT TO:

POV COHEN

Below, we watch as the sea of people and cars surge back and forth. The quality of people on the street has changed along with the quantity. The large majority of young people on the street are still the freaks we've seen from the beginning - young, idealistic, happy, celebratory. But by now the magic has attracted everyone else. We see small knots of angry blacks pushing their way along the sidewalks. Winos sleep in doorways. Very young kids panhandle passers-by, even begging at the windows of the gridlocked tourist cars. Hells Angels have become a permanent fixture.
COHEN
(his hair pulled back in a short pony tail)
All this media attention is killing us. Every mental case and runaway kid in the country is coming here expecting free sex and free food. I don't know how Grogan and the Diggers can keep putting on those free dinners in the panhandle. I heard there was a stabbing the other day. Here! I makes me sick.

ANGLE ON THE OFFICE
GINO
That's one of the reasons I wanted to talk to you today - to tell you that I'm moving up to Marin. I'm going after the funeral parade on Saturday.

Cohen turns from the window.
COHEN
GINO
Emmett didn't tell you? He's organizing a parade called "The Death of the Hippie". They're going to parade down Haight with a coffin and bury it in the park. He's hoping to convince the media that the whole movement is dead and that they should go back to covering the war and the racial situation and things the country really needs to know about.

Cohen comes over to his desk, chuckling.
COHEN

The red-headed girl that we saw in an earlier office scene comes in holding a garishly printed flyer. Her name is Karen.
KAREN
The Communication Company just put this out on the street. I thought you'd want to see it. (she hands Cohen the flyer)

As Cohen reads the flyer, Gino addresses Karen.
GINO
Hey, sweetheart. How you doing? You're looking fine.

She comes over, sits on the arm of his chair, and hugs him.
COHEN
Great! This is just what we need. (he reads) "Citizens of the Haight. Be prepared. Our black brothers and sisters in the Fillmore district are reaching the end of their patience with the capitalistic, racist, war mongers of this country. We are within days of a full scale uprising in the Fillmore ghetto. Since the Haight borders on the Fillmore district you are advised to stay in your homes at night to avoid accidental violence to you and yours. The Communication Company will be bringing you daily updates as developments warrant.

He looks up to Gino and Karen. Another worker sticks his head in the door.
WORKER
Hey, did you hear about the riot?

CUT TO:

C.U. OF GINGER'S BOY, BOBBY

At our first real glance of Ginger's boy, we see that he is a little imp - the kind that girls will not be able to resist when he grows up. His straight blonde hair is cut in bangs. His eyes sparkle with mischief. His button nose and cupid's mouth mark him as a real cherub. He is up to something. As the camera pulls back, we see that he and Billy are sitting on the floor in front of the fireplace in the dining room. Jon, the dog, lies next to them. Bobby is taking crayons out of a box, throwing them into the fire, and watching them melt. He has created an interesting, multi-colored blob on the burning logs. We hear the radio in the b.g. Once again the announcer is gushing about the upcoming Beatles' album. He goes on to play Come Up The Years by the Jefferson Airplane. We hear CHRIS's voice.
CHRIS
Hey, what's that weird smell?

CUT TO:
ANGLE ON DINING ROOM

CHRIS comes into the dining room from the hallway. Through the kitchen door we can see Gerry and Sally cooking dinner.
GERRY
(not looking up)

CHRIS spots the boys by the fire, comes over without saying anything, and sits down with them.

CLOSE ANGLE ON BOYS

Bobby looks at CHRIS with a look that says, "Don't tell". CHRIS looks at their two little faces and can't help cracking up. They all start to laugh. We hear RON.
RON
ANGLE ON DINING ROOM

RON has come in and is looking into the kitchen, asking the women.
CHRIS

RON looks over the big table and sees them by the fire. He smiles and shakes his head. He puts on his leather jacket.
RON (to CHRIS)
I'm going to go pick up the weed from that new guy Angel turned us onto.
CHRIS
RON
(to CHRIS)
Nah. It's alright. I'll take care of it.

Bobby speaks up. He has a gravelly little voice like a hip frog or something.
BOBBY

CHRIS and RON look at each other - to Bobby - and back. RON rolls his eyes. CHRIS laughs.

CUT TO:
EXT. HAIGHT STREET - NIGHT

RON is walking through almost totally deserted fog bound streets. Litter blows along the gutters. An occasional wino peeks out from a doorway. RON looks around, bewildered by the empty streets. One of the Communication Company's flyers catches his eye as it blows by. He stoops down, picks it up, and reads it. His face grows more concerned as he looks around quickly and hurries on.

DISSOLVE TO:

EXT. LARGE VICTORIAN HOUSE ON OAK STREET - NIGHT

RON bounds up the steps of a large three story house and gives a special knock on the door. He stands and waits. Wraps his jacket around himself against the cold. we hear footsteps, then a voice.
VOICE
RON
My name is RON. Angel introduced me to Bart today.

Silence. He waits. Finally, the door opens. An immense black man in a green army t-shirt and fatigue pants scrutinizes him. Then he nods for RON to follow him.

TRACKING SHOT

We follow them through a long entry hall. The house is bare. No furniture anywhere. we come into a large living room, empty except for a large wooden table and a very expensive stereo set-up sitting on the hardwood floor. Two huge speakers sit on either side of the room. Behind the table stands BART. He is dressed entirely in black - tight fitting t-shirt and pants. His long platinum hair falls loosely around his shoulders. Tim Hardin's first album plays on the stereo. Bart looks up. His young face is hard and has seen much pain.
BART

He pulls a plastic wrapped kilo from a duffle bag under the table. He puts the package on the table, then pulls out an army issue .45 from the waist band of his pants. RON approaches the table.
RON
(with a sour look)
You don't need the gun, man.
BART
Says you. Spend some time in the bush and tell me that.
RON
(starting to get the picture)
BART
RON
(pulling out the money, but getting curious now)

The black man steps forward, takes the money, and counts it.
BART
You don't want to know. (pulls a knife out of his pants pocket)Want to sample it?(RON nods)

Bart cuts a slit in the package and pulls out a bud. He breaks the bud up and starts to roll a joint.
RON
Yeah, I do want to know. Tell me.

Bart finishes rolling the joint, sparks it up, and passes it to RON. Bart looks intently into RON's eyes for a long moment. They examine each other. The blonde man sits on the table, his eyes boring into RON.
BART
Imagine this. You're approaching a gook village on foot with a bunch of other shit scared nineteen year old fucks with bazookas, flame throwers, automatic weapons, and grenades. You surround the village and wait for the planes.
C.U. ON BART

There is a torture behind his eyes that is not completely hidden.
BART
The jets come in, strafing the village with napalm, missing you if you're lucky. When the freaked out villagers come running out, you are ordered to fire on them - push them back into the burning hootches - men, women, and children - it doesn't matter. People are screaming everywhere. You're screaming. The guy next to you is screaming. The gooks are screaming. You're firing, and you keep firing until nothing in front of you is moving. Then you notice the stink.

ANGLE ON RON AND BART

Bart just stares at RON, who can't hold his gaze. There is too much horror. The black man hands the money to Bart.
BLACK MAN

Bart hands RON the kilo, and he stuffs it inside his jacket.
BART
(popping the clip out of the gun)
No matter what happens - don't let them take you --

CUT TO:

EXT. C.U. OF RON OUT ON THE STREET - NIGHT

He looks from side to side, nervous. Bart's final words echo on the soundtrack. We can still hear Tim Hardin's album.
BART
(off screen)

ANGLE ON THE STREET

He's walking down Haight Street. It's empty. Thick fog rolls by. Not so far away we hear a sudden explosion. It might be a gun. It might be a backfire. RON jumps and then quickens his pace. The headlights of a vehicle turn the corner and come bearing down on him. Someone is yelling something incoherent. He can't make it out over the vehicle's engine.
ANGLE ON HEADLIGHTS

They're bearing down on him.
ANGLE ON RON

He ducks into a doorway. There's a teen-age boy and girl already there - huddling in fear. Obviously runaways. They all scare each other half to death. The headlights come by slowly as if looking for someone - anyone. They see that it's a big flatbed truck.
ANGLE ON TRUCK

The back of the truck is filled with flowers - red roses. Two men stand in the back, throwing armloads into the street. They are yelling.
IST MAN
(yelling into the empty street)
No riot tonight! All clear! No riot tonight!!
2ND MAN
(yelling into the empty street)
Roses courtesy of the Dead!! Peace, brothers and sisters! Peace!

RON steps out of the darkened doorway onto the sidewalk.

CLOSE ANGLE ON RON

The flowers fall around him in slow motion - a waterfall of roses. We hear Tim Hardin singing, "Misty Roses." The young couple steps out from the darkness into the rain of slow motion petals. RON turns to them. They look at each other. Nothing is said.

We hear the sound of breaking glass, shattering the spell.

CUT TO:

INT. CHRIS AND GERRY'S BEDROOM - NIGHT

They are lying on top of the bed with their clothes on, apparently winding down from the day. At the sound of breaking glass, CHRIS bolts out of the bed and down the hallway.

TRACKING SHOT

We follow CHRIS down the hall, through the dining room, and into the living room. Jon follows at his heels.
ANGLE ON LIVING ROOM

Guy is standing in the middle of the empty living room, looking at a shattered front window, holding his guitar over his head like a club. He has thrown something through the window as evidenced by the fact that there are no pieces of glass on the floor in front of it. Ginger lies on a double bed mattress next to the entry into the living room. A candle burns on the floor next to her. Guy looks over to CHRIS and then back out the window. His face is drawn, sweaty, freaked out.
GUY
(yelling into the street)
Stay away from us!!
(looking over to CHRIS)
I told you they were out to get me! You may not be able to see them, but I can. They're the evil ones, and they want to stop me because I can see them. I'm the only one!

ANGLE ON CHRIS

He's shocked. He's never seen anyone go over the deep end like this.
CHRIS
(to Ginger)

ANGLE ON ALL

Gerry comes running in. Guy steps carefully back to the bed, watching the window all the while. He sits down and immediately starts to fix himself another hit of meth.
GUY
(talking softly to Ginger)
This is the only thing that let's me see them. I've got to protect us.

Something inside CHRIS snaps at these last words. He rushes over and tries to grab the bag of meth away from Guy. They struggle. All hell breaks loose. CHRIS gets a hold of the bag. Ginger screams. CHRIS gives Gerry the bag. Jon starts barking and grabs the cuff of Guy's pants with his teeth.
CHRIS
(to Gerry)

Gerry starts to run out, but Ginger grabs her. CHRIS snatches Guy's needle and stomps it under his boot. Guy slugs him in the face. Gerry lurches away from Ginger and runs out of the room.

TRACKING SHOT

We follow Gerry and Ginger as they race through the apartment to the bathroom. Ginger is screaming at the top of her lungs.
GINGER
(to Gerry)
You fucking bitch! If you flush that, I'll fucking kill you!

When they reach the bathroom, we see Billy and Bobby looking out from behind their bedroom door, faces shocked and frightened. Ginger pushes Gerry up against the bathroom door and grabs her by the hair. Sally comes racing out of her room and grabs Ginger around the neck. Gerry pushes them away from her and throws the bag of speed in the toilet. Ginger screams and rakes Sally's face with her nails. Gerry flushes the bag.

CUT TO: LIVING ROOM

Guy and CHRIS are still fighting. We hear Ginger screaming from the bathroom. Jon is growling, still holding on to Guy's pants, and getting angrier and angrier. He finally bites Guy on the ankle. Guy howls, and CHRIS grabs him from behind, pinning his arms. They both fall to the floor. Jon stands over them bristling, bearing his fangs.
CHRIS
(softly in Guy's ear, panting)
It's over Guy. Trust me. It's over.

Guy is too thin and weak to resist anymore. He pants so hard that he shudders. He is sweating profusely, his hair pasted to his head.

CUT BACK TO:

BATHROOM

Ginger is still screaming at Gerry and trying to get to her. Bobby comes running out of his room, crying, scared, and confused.
BOBBY
(crying)
Mommy! Stop it! Stop screaming!

Ginger pushes backward against Sally, pushing her against the wall in the hallway, knocking Bobby down in the same move. He screams in pain and fear. Suddenly, Ginger snaps into another gear. The mother in her awakens. She spins out of Sally's grasp with her last remaining strength and kneels down next to Bobby.

CLOSE ANGLE ON GINGER AND BOBBY

They are on the floor in the hall. Bobby's lip bleeds slightly. Ginger reaches out to him. The conflicting emotions going across her face read like a massive mental short circuit. We can see the fuses blowing. Before she can touch him, her eyes roll back in her head and she collapses across his legs onto the floor.
ANGLE ON HALLWAY

At that minute, RON comes running up the stairs with the kilo. He looks at the chaotic scene and immediately reaches for Sally, who has a couple of nasty scratches across her face.
RON
(crying)

He grabs a towel from the rack on the bathroom wall and wipes the blood away. Sally hugs up close to him.

CLOSE ANGLE ON BOBBY

He gets out from underneath his mother and kneels down by her, trying to talk to her. He is crying.
BOBBY
(crying)

Gerry kneels down and checks Ginger for her breathing. She looks at Bobby.
GERRY
It's alright now, Bobby. She's just sleeping.
(she looks up at RON)
Help me get her to bed.

RON stoops down and helps Gerry pick up her twin. Billy creeps out of his room and sits down next to Bobby. He puts his hand gently on Bobby's back. Sally kneels down and puts her arms around both boys.

C.U. OF BOYS

They watch Gerry and RON carry the unconscious Ginger away. Their faces seem to grow older as we watch. Innocence. Lost.

CUT TO:

INT. DINING ROOM - MORNING

A casually dressed man in his mid-thirties, carrying a black doctor's bag, comes out of the living room. RON, CHRIS, and Sally sit at the dining room table. The doctor addresses them.
DOCTOR
I gave them something to help them sleep. They'll probably be out for the better part of a couple of days. When they do wake up, make sure they eat something substantial and then make them go back to bed.

CHRIS stands up and shakes the doctor's hand.
CHRIS
DOCTOR
It's alright. I'll be at the Free Clinic the rest of the day if you need anything else.

The doctor walks out of the room and CHRIS goes over to the bay window and looks out. He talks without turning around.
CHRIS
It's time we got out of here. When I saw the kids last night, it did something to me. We need to find a place like Frank's got up north. You can't raise kids with this kind of shit going on. It's nuts.
RON
We're ready. Sally and I have been talking about it for awhile now.

CHRIS waves at somebody below.

POV CHRIS

Below, coming up the street are Gerry, the kids, and Jon. Gerry waves back at CHRIS and turns to come into the building.
CHRIS
Gerry's back from the park.

He turns back to the room and then glances into the living room. A thoughtful look comes over his face and he walks out of the dining room.
ANGLE ON LIVING ROOM

The room is still empty except for the double bed mattess on the floor. Both Guy and Ginger lie asleep on the bed. CHRIS walks over and looks at them. He walks around the bed and picks Guy's guitar off the floor and gently puts it inside its hardshell case. Spinning around on his heels, he kneels beside the bed. Sally stands in the doorway watching.

CLOSER ANGLE ON BED

One of Ginger's legs is tucked under her at an awkward angle. CHRIS reaches over and straightens it out. He pauses, looks at Guy, affectionately brushes his hair back from his eyes, and then pulls a sheet up over the couple's legs. He looks up at Sally and smiles slightly. Sally sees him as if for the first time. We can hear Gerry and the kids coming up the stairs and into the apartment.

ANGLE ON DINING ROOM

Gerry, the kids, and Jon enter the room, full of energy from their walk in the park. CHRIS comes in from the living room. He catches Gerry's eye immediately. He looks at her intently.
CHRIS
(lightly)

Gerry smiles, and nods her head with a relieved look on her face.
GERRY
(with a reassuring look)
Great! We had a great time. Didn't we, guys?

The boys both start talking at once to RON, who is still sitting at the table.
BOBBY
(super enthusiastic)

You shoulda seen it, Won! There was this big blue kite!
(he comes over and sits on RON's lap)
And it was -

BILLY
(talking fast)

There was this guy - there was this guy - and - and he was like - like flying - up high, you know - !


As the boys proceed to tell RON about a hang glider they saw, CHRIS comes around to Gerry and holds her. He looks over at RON until he gets his attention. When RON looks up, CHRIS silently mouths the words, "Will you watch the kids?". RON smiles and nods and is immediately drawn back to the talking boys. Bobby has his arm around RON's neck, looking into his face and babbling away. Sally walks over to the back of RON's chair and listens.

CLOSER ANGLE ON CHRIS AND GERRY

CHRIS pulls two small orange tablets out of his levis jacket pocket. He gives on to Gerry. Her eyes light up with the memory of their last acid experience. She looks at him with an almost animal sensuality and swallows the tablet.

CUT TO:

C.U. OF ANNE

She is wearing sunglasses. Her long, blonde hair is being whipped backward in the wind. Moby Grape blasts on the radio. She is driving the Cadillac convertible.
ANGLE ON THE front SEAT

Slagge is sitting in the passenger seat. They are somewhere around Daly City heading up into town. Slagge leans over and unbuttons her white lace blouse. He pushes the blouse aside, exposing her breasts to the open air. She doesn't respond one way or another. A conservatively dressed man in the car next to them does a double take, almost running into the car ahead of him which has slowed down. He jerks the wheel to the right just in time. Breaks squeal and screech.

CLOSER ANGLE ON SLAGGE AND ANNE

She looks over to Slagge who now is resting his head on the back of the seat, not even looking at her. She doesn't move to cover herself.
ANNE
SLAGGE
(not looking over)
Yeah. Take the next right.

We hear Emmett Grogan's voice.
GROGAN
(incredulously)

CUT TO:

C.U. OF GROGAN

He is talking on a pay phone. The craziness of Haight-Ashbury swirls around him. He concentrates on the phone, oblivious to the activity around him. The street is packed. Shoulder to shoulder. Every type of person imaginable. RON and Sally walk by with the two boys and the dog.
GROGAN
Since when did the cops know wrong from right?! You just concentrate on getting the cars we need! Let me worry about the cops!

CUT TO:

C.U. OF A TELEVISION SCREEN

The colored picture is totally distorted. It's impossible to make out any recognizable picture. Someone switches the channel again and again. We hear Measles.
MEASLES
- just a cop out. This is where it's happening, not some teepee out in the woods, for Christ's sake, Gino. Can't you see that. We have to stick together. That's just what the establishment -

The t.v. begins to come into focus and we are watching news footage of the Watts riots.
MEASLES
(cont.)
- wants us to do. Run off into the hills and disappear. That's just what they'd like.

ANGLE ON MEASLES' LIVING ROOM

Through an open door into Gino's bedroom, we can see him packing his belongings. Measles sits on an overstuffed sofa with Cathy and watches the t.v. as they talk.
MEASLES
(cont.)
I mean look at this. We have to stay here and fight for what's right. What you're doing is just a cop out.

Gino stops what he is doing and comes to stand in his doorway, almost totally filling it. He speaks slowly and definitely.
GINO
The party's over, Michael.

CUT TO:

INT. LIVING ROOM/RON AND CHRIS'S APARTMENT

OVERHEAD SHOT OF GUY AND GINGER

They are sleeping soundly on their bed. The house is quiet. Outside we hear sounds of the street. People laughing, yelling. Ginger turns over on her side and snuggles up next to Guy, molding her body to his. He turns toward her and they embrace in their sleep.

CUT TO:

INT. HALLWAY AT HOWIE'S PLACE - DAY

Darrell, looking straight and preppie as ever, is tip-toeing down the hallway. He stops at the door with the sign that says, "Monks at Work". He looks around furtively.

CLOSE ANGLE ON THE DOOR

He reaches down and tries to open the door, only to find it locked this time. He looks around again, head jerking from side to side. He reaches in his pocket, pulls out an old skeleton key and inserts it into the lock. He turns it very slowly and, quietly as possible, opens the door and starts to look inside.
HOWIE'S VOICE
(whispering angrily)
Darrell! Get out of there!

Darrell jumps back and only succeeds in slamming the door.
ANGLE ON HALLWAY

Howie comes walking up, amused and irritated at the same time.
HOWIE
Why can't you just leave it alone?

Darrell, frustrated and scared by Howie's sudden interruption, almost quivers with unsatisfied curiosity. It's become an obsession for him to find out what's going on inside that room. He looks a Howie with his teeth clenched and eyes bulging.
DARRELL
What the fuck are those guys doing in there?!

CUT TO:

EXT. STREET OUTSIDE HOWIE'S - DAY

Grogan is leaning in the window of a parked car.

CLOSE ANGLE ON WINDOW

A young innocent-looking, seventeen year old boy with curly black hair listens intently to Grogan. Haight street roars with activity a block away.
GROGAN
Okay, set your watch . .
(he looks at his wrist watch)
. . to 2:37. At 3:30 move into position.

CUT TO:

CUT TO: INT. LSD LABORATORY - DAY

We see the young man with long blonde curly hair and an African dashiki that Angel had pointed out at the dealer's cafe in an earlier scene. His name is J.D. He is in the midst of putting drops of a clear liquid on blotter paper. The room looks like a high school chem lab - counters, beakers, sinks, racks of test tubes. The young man is alone. He is singing along loudly with Big Brother and the Holding Company.

C.U. OF BLOTTER PAPER

He puts a drop of liquid on a tiny square, goes to the next square, and does the same. There is a knock on the door.
SLAGGE'S VOICE

CUT TO:

The chemist straightens up, still looking at his handiwork.
J.D.
Don't come in here unless you want to get higher than anyone has a right to be.
(he smiles from ear to ear and laughs like a mad scientist)
ANGLE ON ROOM

Slagge and Anne come in. J.D. comes over, very animated and enthusiastic. Here is a true believer. His pupils are completely dilated. He exudes real infectious joy. Slagge and Anne both smile. They are all happy to see each other.
J.D.
Hi, you guys! God, it's great to see you!
(he kisses Anne on the lips and then does the same to Slagge)
There! Now you both just took about 500 mics of pure acid!

ANGLE ON ROOM

He stands back, extends his arms out from his sides, and wiggles his whole body, shaking is long curls. He smiles and laughs with a laugh that includes them both in the joke.
J.D.
They don't call me hot lips for nothing!

CUT TO:

EXT. STREETS OF THE HAIGHT - DAY

We see Grogan climbing up to the cab of a huge cement truck and talking to the driver.

CUT TO:

C.U. OF THE CREDITS FOR A COWBOY MOVIE

It looks like we might be back at Measles' t.v. We see the credits for a western movie in full color. We can't quite make out the actual words, because they seem to be layered upon each other. Upon close examination, the graphics seem to suggest letters but not in any recognizable alphabet. It's as if someone took the same exotic transparency and repeated it over and over into infinity. The credits keep shifting, not allowing us to ever get a handle on them.
ANGLE ON CHRIS AND GERRY'S BEDROOM - DAY

The camera pans down, and we see that this whole show is being projected on the ceiling of their bedroom. There is no noticeable source of projection. CHRIS lies alone on the bed, in a semi-fetal position, staring up at the ceiling. The credits continue to shift. They appear to be almost alive. It's as if the ceiling has disappeared and the credits go on forever.

Suddenly, Gerry comes into the room. Her whole posture tells us that something is wrong. She holds her hands up in front of her as if trying to ward something off, or keep her balance. There is, however, nothing of the stumbling drunk about her.

POV CHRIS

She looks as if she has stuck her finger in a socket. Her eyes are wide , her jaws tight. She comes toward the bed. The credits on the ceiling collapse around her and disappear.
GERRY
(shaking her head)
Oh CHRIS . . . I don't know . . it's . . I . . It's . . it's too strong. I'm not handling it.

She sits on the edge of the bed, looking down at him.
GERRY
(shaking her head)
I need to come . . . down . . I . . I'm not ready . . .
ANGLE ON BED

CHRIS sits up with effort and tries to gather himself together. It's obvious that he is blitzed out of his mind. He looks at her for a long time, as if he has never seen her, or any other human being, before. He reaches out and takes her hand. He closes his eyes in concentration. He speaks slowly.
CHRIS
I know . . I know . . this is the strongest . . it . . takes you
(he holds her closer to him)
I'm too stoned . . . to really . . help you. Howie - Howie has some thorazine. Let's go to Howie's

Gerry just nods. They stand slowly and head for the door. Jon, who has been lying at the foot of the bed, follows.

CUT TO: EXT. GOLDEN GATE PARK - DAY

RON and Sally lie on a grassy hill, watching Billy and Bobby running around below, laughing and playing. Over across the way, a group of black men and jamming rhythmically on gongas and bongos. Fifty yards away, under a eucalyptus tree, a small group of long-haired young men are digging a deep hole. RON and Sally kiss deeply.

CUT TO:
EXT. HAIGHT STREET - DAY

Grogan stands in the street with a large group of young folks, both male and female. Behind him, two pick-up trucks block the street. He looks up Haight Street and sees that it is empty of traffic for the first time in the entire movie. He turns to the group and nods. From the middle of the crowd a group of men lift a full size wooden coffin up onto their shoulders.

CUT TO:
EXT. CLAYTON STREET - DAY

Gerry and CHRIS come walking down to the main drag from their apartment one block above it. Two older model cars are parked across the road, preventing any other vehicles from entering Haight Street from Clayton. CHRIS walks with his arm around Gerry protectively. When they reach Haight Street, it's filled with young people - nothing but young people. There are no tourists - no cops - no media. It looks like the scene at the beginning of the movie. Music blares from the windows of the apartments above the street. People dance in the middle of the road, pass joints, and generally celebrate. As we move through the crowd we see the proto-types of every fashion fad of the last forty years, from long hair and home made bell bottoms, to mohawks and army surplus, to boas and lace, to mini-skirts and stilettos. As before, there are cowboys and indians, edwardian dandies, arab soothsayers, forties gangsters. It's all there.

POV CHRIS AND GERRY

Everyone moves in crystal clear slow motion to CHRIS and Gerry. There is no distortion. When we pick a person to look at, we telephoto in on them and see every detail. We approach two young women in long flowing dresses dancing with each other in the street. They are laughing and having a good time. They look over to us and extend their hands in an invitation to join them. They look right at us and realize how stoned we are immediately. They both smile gently and move away, allowing us to pass graciously. One puts her hands together and bows to us in the Hindu gesture that recognizes another person's godhead.

CUT TO:

EXT. OVERHEAD HELICOPTER SHOT - DAY

We see the scene below in a swooping shot. The noise of the copter is deafening. We hear a t.v. newsman trying to make his voice hear above the noise.

INT. COPTER

A standard issue media man with a headset over his ears looks toward the camera.
NEWSMAN
This is Scott Olsen hovering over Haight Ashbury. The hippies have barricaded the streets here, preventing any cars from getting in. There are rumors that we can't confirm that this is the beginning of an armed uprising. The police have been called in -

CUT TO:

INT. HOWIE'S APT. - DAY

CHRIS and Gerry are coming up the inside stairs. At the same time, Howie is coming down. At first he says hello, not noticing anything, but when he gets closer, he realizes what the situation is as quickly as the girls on the street. He looks at them searchingly.
HOWIE
(to CHRIS)

CHRIS just nods.
HOWIE
(to CHRIS)

CHRIS just nods again, finding it difficult to speak. Howie turns and bounds upstairs. CHRIS and Gerry and Jon follow more slowly.
ANGLE ON HOWIE'S BEDROOM DOOR

As the stoned couple come down the hall, Howie comes out of his bedroom. He ushers them in, giving CHRIS two read capsules at the same time.

INT. HOWIE'S BEDROOM

Howie's room is similar in decor to Sam's at Measles' place. Indian print tapestries hang from the ceiling in a tent-like effect. Persian rugs cover the floor. The big double bed is unmade and covered with large pillows. Sunlight streams in from a window right next to the bed. Both he and CHRIS sit Gerry gently on the edge of the bed. Howie runs out. CHRIS looks at Gerry.
CHRIS
(reaching for the words)
I'm not going to . . . take any . . I want to see . . where . . it . . takes me.

She reaches out and touches his cheek as Howie comes back in with a glass of water. Gerry puts the Thorazine in her mouth and washes it down. Howie looks on with concern.
HOWIE
(to both of them)
Listen, you guys, you can stay here. Just relax.
(to Gerry)
How are you doing, darlin?
GERRY
(taking a deep breath)
I think I'll be alright. I'm already feeling better.
HOWIE
Okay, good. Just relax. Watch your breathing. Remember it's all about love. I've got to go help Emmett with the funeral.

He looks at them and smiles, realizing that they are so stoned that anything he says probably sounds like gibberish. He reaches down and touches them both, looking into their eyes and seeing that they are both calm now.
HOWIE

CUT TO: EXT. OVERHEAD HELICOPTER SHOT - DAY

Below, we see a tightly bunched group of a few hundred people walking slowly down the street. The camera -

TELEPHOTOS IN -

and we can see the coffin being carried on the marcher's shoulders. The marchers are not organized in rows. The whole crowd just sprawls down the street, sidewalks, and over parked cars.
NEWSMAN
(off camera)
They're carrying something. It looks like - yes - I'm pretty sure that it's a coffin. Jess -

On a couple of side streets we can see police cars pulling up, lights flashing. They are stopped by parked trucks and cars across the roads.

CUT TO:

RUNNING HANDHELD SHOT OF CROWD - DAY

We are moving around two parked cars that are blocking Clayton and then onto Haight Street. The head of the parade is just reaching the same spot. We hear another newscaster.
2nd NEWSCASTER
(off camera)
- were told by a spokesman for the hippie group, the Diggers, that the so-called hippie movement is dead and that this march is its official funeral. I -

Howie comes hurrying by. The newsman steps into view, grabbing Howie by the arm.
2nd NEWSCASTER
Excuse me, young man. Could you answer a few questions for -

Howie stops, looks at the situation, smiles, grabs the newsman in return, and drags him into the street. The newsman looks back at the camera and waves for the cameraman to follow him. We-

FOLLOW

in a jerky, handheld shot into the crowd of marchers. we see Measles, Cathy, Gino, and Sam. Howie pulls the newsman toward them. The newsman is beginning to laugh. The crowd is in a joyous mood, singing, yelling, laughing, talking amongst themselves, passing joints. Measles passes a joint to the newsman, who takes it, catches himself, and passes it on to Gino. Five or six conversations go on around them at once. After taking a good hit, Gino passes the joint toward the camera, and a hand comes around the lens and grabs it.

CUT TO:

EXT. STREET IN front OF HOWIE'S - DAY

Slagge and Anne pull up and park. Anne is still driving. A block up on the street, we see the large noisy crowd passing slowly by. Slagge and Anne get out of the car and walk up the steps to Howie's. They stop on the steps and watch the parade.

CUT TO:

INT. HOWIE'S BEDROOM - DAY

CHRIS is lying on his back on Howie's bed. He is as still as a corpse, legs stretched out, hands at his side. Gerry sits next to him, watching.

CUT TO:

GERRY'S POV

She is obviously still high, because her view is very different fro what we would normally see. There is no clear demarcation between the lines of his body and the bed it lies on. It's as if he is part of the bed, growing out of it. Everything she sees seems to shimmer with energy.

CUT TO:

CHRIS'S POV

He sees the room. But not with normal eyesight. He can see everything in the room as if through a super wide angle lens, with no distortion. There is also not the color in the scene that we are used to. What he sees is the electricity and the molecular structure behind everything. Gerry and Jon, for instance, appear as figures made up entirely of light. The boundaries of their silhouettes extend beyond the normal boundaries of their physical bodies. The walls of the room are not as dense in their energy. They are translucent. We can see through them to the street beyond. In the distance, a river of light flows along the street. Two new light figures come into the room. One is very tall.

NORMAL ANGLE ON THE ROOM

Slagge and Anne come through the door. Gerry turns from the bed.
GERRY
Hi, you guys! When did you get back?

Anne looks at her and laughs.
ANNE
You're more stoned than we are, if that's possible.
GERRY
(laughing weakly in agreement)
Yeah, I know. It was too strong though. I had to take some thorazine. I was losing it.
(she turns to CHRIS)
Hey, honey, look. Slagge and Anne are here.
(he doesn't respond)
CHRIS. CHRIS?

Gerry bends over and touches CHRIS on the shoulder. He doesn't respond. She gets a concerned look on her face and moves over closer to him. She touches his chest and puts her face close to his, trying to feel his breathing. She sits bolt upright with a look of horror on her face.
GERRY
(laughing weakly in agreement)
I don't think he's breathing!

Slagge and Anne both step forward at once. Slagge sits on the bed and reaches out for CHRIS.
VOICE
(off screen)
Wait. Please do not touch him.

They all look up.

ANGLE ON THE DOORWAY

Standing there are two Tibetan Monks in full traditional costume. Their heads are shaven. They are totally calm and centered.

CUT TO:

POV CHRIS

The new arrivals lightbodies outshine the other four in the room. They seem to glide across the floor toward the bed. We hear an intense electrical hum on the soundtrack.

NORMAL ANGLE BACK ON GROUP

The two monks move with assurance toward the bed. Something about the certainty of their movements causes both Gerry and Slagge to get up from the bed and move out of their way. One of the monks sits on the side of the bed and immediately starts talking to CHRIS, softly, in Tibetan. He speaks in a hypnotic rhythm.

CLOSER ANGLE ON GERRY, SLAGGE, AND ANNE

Gerry is still very concerned. She bites her lower lip.
GERRY
(to anyone with an answer)
What's he doing? What is this?

Anne reaches out and holds Gerry. Slagge leans down and whispers.
SLAGGE
(whispering to the girls)
GERRY
(starting to panic)
What!? Let's call a doctor or something!

The other monk comes over to her and touches her shoulder. She seems to calm down immediately.
2nd MONK
Please, do not worry. He is alright. He is more alive now than perhaps he has ever been. You are in the presence of a holy event.
(he smiles)
It is a time to rejoice.

His words are convincing and calming if totally alien. Gerry looks from Slagge to Anne and back to the Monk in opened-mouth bewilderment.

CUT TO:

POV CHRIS

We hear a deep booming voice echoing to infinity on the soundtrack. It's hard to make out the words. The electrical hum grows louder and louder. We hear other sounds that seem like great gigantic electrical transformers thundering in precise rhythms. The lightbodies in the room begin to merge with one another and their surroundings.

CUT TO:

EXT. ENTRANCE TO GOLDEN GATE PARK - DAY

By now, the whole procession has reached the entrance to the park. We hear uncounted conversations going on at once. We view the scene through the

HANDHELD CAMERA

We are jostled back and forth as the crowd moves on. As the camera pans around, we see Gino, Measles, Cathy, Howie, and Darrell.
HOWIE
(to Darrell)
This is going to be far out! Did you get extra film for the camera?

Darrell looks at him blankly and then rolls his eyes in frustration, realizing that he has forgotten both film and camera.
DARRELL
(to Darrell)
HOWIE
(to Darrell)
Well, just don't stand there. You got time. Run back and get it!

Darrell thinks for a second and then turns and begins to thread his way out of the crowd. He turns back and yells over his shoulder.
DARRELL
(to Darrell)
Don't let them start the ceremony until I get back!

TRACKING SHOT

We follow Darrell as he busts free of the crowd and starts running down the street back in the direction of Howie's place. The camera is close in on him and we can see different emotions flicker across his face - frustration, excitement, anticipation, anger at having to run back, then excitement again.

CUT TO: EXT. GOLDEN GATE PARK - DAY

RON and Sally are lying on the same hillside. Billy and Bobby are over watching the group of young men finish digging the hole that they have been working on. The group of blacks are still playing drums over across the way. The rhythms are basic, tribal, and primitive. Suddenly, the whole parade comes spilling into the area, heading straight for Billy and Bobby and the grave.
POV BILLY AND BOBBY
They see a huge mob of loud, laughing, yelling people bearing down on them.
ANGLE ON HILLSHIDE
Billy and Bobby bolt back toward the safety of RON and Sally.
CUT TO:
INT. HOWIE'S BEDROOM - DAY
The Monks are leaving. CHRIS is still silent on the bed. The Monk who talked to CHRIS stops and addresses Gerry
MONK
(smiling reassuringly)
Your man is alive and well. He has just seen beyond this illusion into the heart of reality. (he pauses) Everything, for him now, has changed. Try to understand.

The Monks leave, and Gerry looks after them. She puts her hands, palms up, in a frustrated gesture.
GERRY
(to Slagge and Anne))
Beyond this illusion?
(she looks at her friends)
What the hell is that supposed to mean?
She looks over to CHRIS and then walks over to the bed and sits down. She reaches out and holds his hand gently. Slagge and Anne come over and sit down with her.
POV CHRIS
The light bodies surround him and all blend together, filling the screen with a pulsating pale yellow light. The electronic sounds continue.
CUT TO:
INT. GRAVE - DAY
We see the coffin being lowered down to us on ropes. Faces lean over the lip of the grave looking down, laughing and talking.
CUT TO;
POV CHRIS
From the middle of the sea of yellow light, a small circle of pure white light appears and immediately starts to expand.
CUT TO:
INT. GRAVE - DAY
Grogan stands at the foot of the grave. He throws a handful of dirt on the coffin in slow motion.
GROGAN
(ceremoniously)
Dust to dust. Ashes to ashes . . .
CUT TO:
STREET IN front OF HOWIE'S - DAY
The Monks are coming donw the steps to a waiting taxi. Darrell comes running up, totally out of breath. He stops cold and stares at the illusive and mysterious Monks. They start to climb in the back of the taxi. Darrell freaks.
DARRELL
(panicked)
Wait! Wait!! Hold on a minute!!
He runs up to the Monks, who stand by the open door of the cab.
DARRELL
(stumbling over his words)
What are you do . . . where are . . . wha . . . ?
(he stops and tries to gather himself together)
Do you speak English?

The Monk who chanted over CHRIS just nods.

CLOSER ANGLE ON DARRELL AND THE MONK

Darrell puts his fingertips to his temples, trying to concentrate and catch his breath at the same time.
DARRELL
The Monk just nods once again. Darrell leans forward ever so slightly, waiting for him to say something - to explain himself - to clear up the mystery. The Monk just looks at him peacefully.
DARRELL
Well . . . What were you doing here?
The Monk smiles and looks at Darrell steadily.
MONK

The Monk leans forward, takes Darrell's left hand between both of his and touches his forehead to their joined hands. He straightens up, looks at Darrell one more time, turns, and climbs into the cab. Darrell stands there stunned, as if he has just been struck by lightning. We can see the wheels start to turn behind his eyes at the speed of light.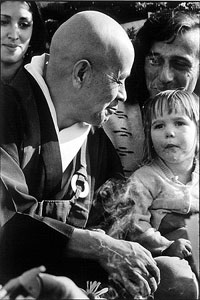 DARRELL
(snapping out of his shock)
Wait ! Don't go yet! WAIT A MIIINUUTE!!!!

C.U. ON DARRELL

He stares after the departing taxi, face full of frustration. The frustration is slowly replaced by a look of inner thoughtfulness. His eyes take on a blank look as his thoughts turn inward. He looks again at the taxi as it turns right on Oak and disappears. A look of amusement and slow-dawning revelation creeps across his face, a smile tugging at the corners of his mouth. In the background on the soundtrack we hear the opening bars of the Beatles' Sgt. Pepper album. A disc jocket is yelling ecstatically.
DISC JOCKEY
That's right! We've played it four times in a row! And we're going to play it again and again and again! It's the Beatles!!

The smile on Darrell's face finally gets the upper hand. He looks like someone whose dream has just come true. We hear the Beatles singing.
BEATLES
It was twenty years ago today

CUT TO:

INT. HOWIE'S KITCHEN - NIGHT

It's brightly lit. The music is loud. It's the Beatles. CHRIS and Darrell stand over by the sink. Guy, Slagge, and Anne sit at a wooden table. Slagge is eating a white bread sandwich.
DARRELL
(to CHRIS)

What do you mean? Out of body conciousness?

CHRIS

I mean I experienced a total merging, on an energy level, with everything around me. The was no difference between my body, for instance, and the bed I was on.

DARRELL

How do you know it wasn't just a hallucination?

CHRIS

I'm telling you! My heart actually stopped beating. I stopped breathing. I experienced what was on the other side of death!

DARRELL

What are you saying? That there really is somekind of life after death?

CHRIS
(realizing it himself for the first time)

Yeah! That's exactly what I'm saying!

GUY
(to Slagge and Anne)

- was a joke. So he gave me a script for Nemutals to come off the speed. ( he laughs his deep infectious laugh, sincerely amused) There was no way I was going to waste these yellows sleeping They're too good of a high.

Guy finishes rolling a joint and sparks it up. Slagge finishes his sandwich, washes it down with milk, and takes the joint from Guy.

ANNE

I love yellows. They're so mellow. I just love everybody.

Anne takes a hit from the joint and passes it to Guy.

GUY

You and Ginger. You should have seen her eyes light up when the Doctor pulled them out of his bag. (he stops, takes a toke of a joint and becomes thoughtful.) We really got to cut back though. I was getting out of hand. (Darrell's question cuts through their conversation. Guy turns to CHRIS and Darrell and laughs again) Shit, I'm still trying to figure out if there's life after birth.
Slagge sits up straight in his chair, listening to everything. Guy's last comment hangs in the air. Slagge cocks his head to the side with a solemn look of a professor.
SLAGGE
My mother once told me that she ate my afterbirth.

The boys break out laughing. Anne gives Slagge a disgusted look.
ANNE

CHRIS comes over, gets Slagge in an affectionate headlock.
CHRIS

Measles comes swooping through the door of the kitchen.
MEASLES
(smiling, full of animated energy
Come on, you guys! Everyone's going up on the roof for one last smoke before you all leave. It's a send off!

CUT TO:

INT. ROOM WITH SWINGING TABLE - NIGHT

The room is full of people standing and sitting around the swaying table. The Beatles are singing "With a Little Help From My Friends" on the radio. The room is lit only by large candles placed here and there. In the dimness, we see most of the rest of the crew. RON and Sally, Cathy and Gino, Angel and his girlfriend, the blonde LSD chemist, JD. Everyone is talking and laughing. Measles comes in with the group from the kitchen.
MEASLES
Okay! Alright! It's happening! Everybody up on the roof!

Measles enthusiasm is contagious. People jump up. They shout, "Okay! Alright! Let's Go! To the roof!" J.D. with his long blonde curly hair comes running over to Measles. With Measles' curly red hair, they look like some kind of goofy twins. J.D. grabs Measles by the shoulders, puts their foreheads together and shakes his curls in Measles' face., chanting loudly.
J.D.
(rattling it off very fast)
We are members of the furry freak brotherhood!
We are weird beyond compare!
We believe in better living through chemistry!
We will not rest until everyone in the world has a Karma Credit Card and Eternity Insurance!
That's right never in any lifetime will you not be fully covered with a $200 deductible!!
Measles breaks out laughing.

CUT TO:

INT. HALLWAY OF THE APARTMENT - NIGHT

The crowd lurches down the hallway toward the back of the apartment where a ladder leads up through a trap door in the ceiling. Coming up the stairs from the street are Howie, Grogan, Frank, and Ed. Frank and Ed are decked out in their buckskins, obviously ready for another run to Texas. Measles comes rushing up to them.
MEASLES
Great! You guys are just in time. C'mon!

Ed looks up.
<![if !supportLineBreakNewLine]>
<![endif]>
ED
We can't stay. We're pulling out right now.
MEASLES
(not taking no for an answer)
C'mon! c'mon! This is the ultimate psychedelic, Irish wake, bon voyage, extended family, super-freak, hit the road, smokathon. Let's go!

The whole group laughs and follows Measles up to the roof. In the b.g. we hear Within You and Without You

CUT TO:

INT. HOWIE'S BEDROOM - NIGHT

The room is dark. Light spills in from the brightly lit hallway. The partiers are making their way down the hall. Sitting on the edge of the bed are Ginger and Gerry. They are looking at their sleeping sons, who are sprawled out on the bed. Jon lies at their feet. In the darkness, it's almost impossible to tell the twins apart.
1ST TWIN
You're going to kill yourself if you keep it up.

C..U. ON 2ND TWIN:
2ND TWIN
You know what they say. Live fast, die young, and live a good looking corpse.


C..U. ON 1ST TWIN:
1ST TWIN
Don't give me that bullshit. What about Bobby?

C..U. ON 2ND TWIN:
2ND TWIN
Listen! You live your life, and I'll -
VOICE
(interrupting in a hushed whisper)

ANGLE ON THE BEDROOM DOOR

CHRIS is sillhouetted in the doorway.

ANGLE ON BED

Gerry gets up and walks to the door. She looks back at Ginger.

GERRY
Everything you feel . . . I feel . . .

CUT TO:

EXT. ROOFTOP - NIGHT

HIGH ANGLE

Spread out below us is Howie's rooftop and those of surrounding houses. The Beatles' album on the radio comes from almost every open window in the neighborhood. " Lucy In the Sky With Diamonds" is playing. We can see people in other apartments passing in front of their windows. In the distance, the lights of downtown shine like jewels. Overhead, the clear sky is filled with stars. The party spills out onto the roof, laughing, talking.

CUT TO:

CLOSER ANGLE ON ROOF

TRACKING SHOT

We follow closely behind RON and CHRIS, with Sally and Gerry, as they climb up onto the roof and walk toward the parapet wall at the roof's edge. The whole group swarms up on the roof with them. Gino and Grogan are close by, and we hear them also. CHRIS is talking excitedly to RON. He leans in close to him, touches him while he talks.
CHRIS
(a big acid grin on his face)

It's just what we hoped all along! It's beyond what we hoped!

RON

(smiling, infected by his friend's enthusiasm)

It's real? You really got to the other side?

DARRELL

How do you know it wasn't just a hallucination?

CHRIS

Yeah, but dig it. It's even more than that. Who you are in your deepest most sublime self is the foundation (he pauses and thinks) the essential stuff of all this (he waves his arms around to include everything and everyone around them. As he does he stops dead in his tracks) Whoa!

GINO
(quietly)

- yeah, I'm leaving tomorrow. We just can't sustain a community here with the whole weight of the system bearing down on us. We need to spread out - become less of a target. - build an underground system of communities out on the land. Besides you just can't continue the spiritual work in the middle of this chaos. We need quiet surroundings. The monks don't build their monastaries up in the mountains for nothing.

GROGAN

You may be right, I don't know. The whole system's collapsing. It may take twenty, who knows, maybe fifty years, but it's going. You may be right to try to get out from underneath it before it goes. God knows the destruction will be massive and global when the shit finally hits the fan. But I'm going to stay and try to get through, at least to a few people.
CUT TO:

POV CHRIS

As he looks around at the people on the rooftop, he sees that everyone is throwing off light. Each person shines with a different intensity and different combinations of colors. He can see each person clearly, but around each of them there is a nimbus of pulsing, changing light.

ANGLE ON RON AND CHRIS

CHRIS looks intensely into RON's eyes. He has found the psychedelic pot of gold that they have been pursuing. They both laugh and shout simultaneously, grab each other by the arms and start dancing around in circles. "Getting Better" is playing from the apartments around them. Without any signal, they part, turn to both Gerry and Sally, grab them, and keep on dancing. The camera turns in circles, covering both couples as they twirl in heady enthusiasm around the rooftop. Measles and Cathy join in. As the camera continues to turn, we see Guy and Ginger, Slagge and Anne, Angel and Gina, and even Howie and Darrell all join in.

CUT TO:

PREVIOUS HIGH ANGLE OF ROOF TOP

Below, we see everyone dancing, spinning like sufis, under the stars. However, we see them as CHRIS sees them, emitting light. A couple from a taller neighborhood building lean out their window, cheering them on. Suddenly, the camera rises upward as if taking off on a rocket. As it elevates rapidly, we see, first, the whole of Haight Ashbury, and then the whole city of San Fracisco. We hear Sally.
<![if !supportLineBreakNewLine]>
<![endif]>
SALLY
(off screen)
Can you still see the light around us?

DISSOLVE TO:

INT. MOVING VW VAN - MORNING

We are in Guy's van. He is driving. Ginger sits next to him. Gerry, CHRIS, the boys, RON and Sally, and Jon lounge in the back which has been turned into a large bed. The Beatles' "Good Morning" blasts from the car stereo. Outside, the rolling empty land of central California passes by. CHRIS, who is lying back with his head resting on his sleeping dog, chuckles.
<![if !supportLineBreakNewLine]>
<![endif]>
CHRIS
No, it's worn off. Yours was a pretty kind of cobalt blue for the most part, though. Real warm. If blue can be warm . . .

At a quick glance, we can see that CHRIS, RON, and Gerry have all changed alot since we first saw them. Both RON and CHRIS have let their hair grow long. RON has his pulled back in a pony tail. CHRIS is starting to grow a beard to go along with his moustache. Gerry no longer wears any make-up. Her hair, too, is appreciably longer, it's ends showing the residue of a lighter color. They are people who have embarked on somekind of trek, somekind of adventure, not really knowing where it will lead them, but going anyway. They emanate the aura of pioneers, a little rough around the edges, but full of hope and excitement for the trip. By comparison, Guy and Ginger seem to have changed very little.

Outside the window, pulling up along side of them on the two lane hiway, we see Slagge and Anne in their Caddy. Slagge is driving.

CUT TO:

MOVING SHOT BETWEEN THE TWO CARS

Guy leans out his window and yells.
GUY
Hey! Fancy meeting you here! Where you headed!

Anne pulls her blowing hair back from her face. In the distance, a semi-truck is approaching in the Caddy's lane at a high rate of speed. Anne, looking at Guy, doesn't notice.
ANNE
We're going back to Phoenix to sell this acid! Where are you going?!

The oncoming semi is getting closer and closer. Slagge doesn't seem to notice either, even though he's looking right at it.
GUY
(smiling broadly)
As far away from any city that we can get! Wanna come?!

Bearing down on them like a freight train, the semi blows its loud air horns.
ANNE
I doubt it! Don't forget to write though!

She turns and sees the oncoming semi, hurtling down upon them now like some huge death delivering missle.

CLOSE ANGLE ON ANNE

She turns to Slagge with a look that says, "Well?". Then she yellls.
ANNE

BACK TO THE MOVING ANGLE BETWEEN THE CARS

The Caddy shoots ahead just at the last minute and the semi rips by, rocking the VW van in its wake, blasting its horn is sustained anger.

DISSOLVE TO:

EXT. DESERT - NIGHT

We are sitting around a campfire. A coyote howls in the distance. Crickets sing. Ed and Frank sit around the fire in their buckskins. They are eating peyote. The scene is exactly the same as the one that started the movie. We hear the same throbbing music on the soundtrack. It might be a heartbeat. It might be played by the ghosts of the Kiowa braves that haunt the fields. We linger on the men as they eat. There is a spooky feeling to the whole scene.

Perhaps the whole movie has been somekind of weird, futuristic hallucination experienced by these two mountain men under the influence of peyote.

C.U. ON ED

In the flickering firelight, he cleans a large button with a nasty looking Bowie knife. The camera slowly

PANS TO THE RIGHT

to reveal

DARRELL

sitting cross legged by the fire. He is still dressed is his preppie clothes, with a blue knit sweater draped over his shoulders. His eyes flit from Frank to Ed as he nibbles on a button. His face shrivels up in comic distaste.

In the b.g., there are other sets of eyes, yellow eyes, looking on from just outside the ring of firelight surrounding the men. Suddenly, one of the pairs of eyes moves. It comes forward.

CLOSER ANGLE ON DARRELL

A coyote walks calmly toward the men. He walks in between Darrell and Frank and sits down, ears cocked forward, watching the fire. Darrell freezes with his mouth open, about to take another bite of the cactus. He looks at the coyote. He looks over to Ed and Frank. He looks at the coyote again, and then back to Ed and Frank. They do not respond in any particular fashion.

ANGLE ON COYOTE AND DARRELL

The coyote looks over at Darrell. Their eyes lock. Darrell can only maintain the stare for so long. He looks away, back to
the fire.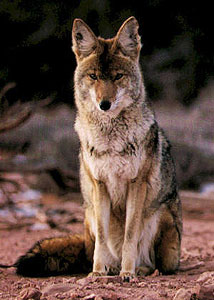 C.U. ON DARRELL

He stares at the fire with a puzzled look on his face. His eyes flicker back in the coyote's direction and then back to the fire. A disbelieving, goofy smile sweeps across his face. He laughs out loud, takes another bite of the button, and chews, smiling. Home at last. God Almighty, home at last.

FREEZE FRAME

FADE TO BLACK

As we roll credits, we hear the Beatles' "A Day In The Life"


<![if !supportLineBreakNewLine]>
<![endif]>
---
The Haight by Terry Molloy Copyright 2006 All Rights Reserved

For More Stories About Jerome Click Here Author's e-mail Home