The Haight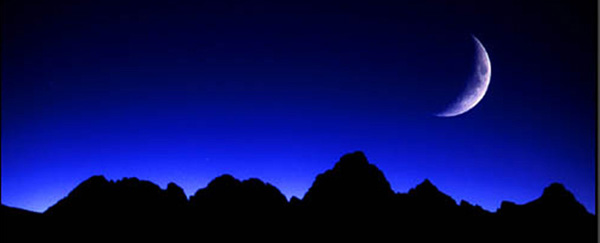 EXT. DESERT - NIGHT

It's the Sonoran Desert. Texas-Mexico border. Black sawtooth desert mountains are silhouetted against an immense sky filled with stars. A new moon hangs over the mountains. We hear only the wind.

HIGH ANGLE

We see a small campfire lighting up a tiny circle in the vast blackness of the desert floor.

CLOSER ANGLE ON THE CAMPFIRE

Two rough looking bearded men sit close around the fire. They are boiling a pot of something over the fire. They are both dressed in full Indian style leather buckskins - shirt, pants, and moccasins.

C.U. ON 1ST MAN

He withdraws a flaming branch from the fire, makes sure it is burning strongly, and then looks at the other man by his side. They both smile slightly, sharing some kind of secret and friendship. Both of these men somewhere in their pasts have seen blood spilled, revenge taken. The lines on their faces tell the story.


1st MAN



He stands and -

WE FOLLOW -

as he turns and walks out into the darkness. At this point, deep in the b.g., we hear, almost in a whisper, a throbbing and then the distant sound of an indian flute. He swings the burning branch back and forth in front of him, close to the ground, looking for something. As he approaches a particularly thorny looking area of bushes, he stoops lower, looking more intently on the ground. Finally, he kneels down, puts the torch on the ground near one specific bush whose lower branches he pushes aside to reveal the ground underneath.

C.U. OF GROUND

There, in flickering firelight, we see the tops of small round cacti. The man takes a knife from his side and begins cutting the tops off the cacti from their roots. He puts them in a small beaded, leather bag at his waist. The trobbing becomes more insistant. It could be a heart beating. It could be Indian drums. It's light and far away.

C.U. OF A COYOTE'S FACE

The coyote is perfectly still and alert. The burning branch, twenty yards away, flickers in his eyes. His coat glistens.

A WIDER SHOT REVEALS -

that the coyote is standing on a small hill, watching the man.

DISSOLVE TO

1st Man walking back into the campfire area. He sits down, takes three of the cacti out of his pouch, and hands them to his friend. He then takes out one for himself. In a

C.U. OF THE 1ST MAN

we can see that it is peyote that he is holding. He quickly removes the small white hair like tufts that grow from the top surface of the button. He puts it to his mouth and takes a large healthy bite and chews vigorously. He swallows with a slight wince, looks at the peyote button in his hand, and then takes another bite. He starts humming something. It's hard to tell what it is. Something primitive. The wind picks up somewhat and the spooking throbbing sound gets louder.

WIDER ANGLE OF THE CAMPFIRE

We see other eyes on the outskirts of the fire's light. They are unmoving. Watching.

DISSOLVE TO:

WIDE HIGH ANGLE OF THE CAMPSITE

As a TIME LAPSE shot reveals the dawn coming up on a vast empty desert, we see a 1951 GMC pick-up truck parked on a whisper of a dirt road, twenty feet from the dying fire. As the -

CREDITS COME UP

we watch the men load their cooking and sleeping gear into the back of the truck which is covered by a tattered canvas top. They also load four big gunny sacks full of peyote. The back of the truck is dark, and we can't see what else might be in there. They finally climb into the truck and take off.

IN A SERIES OF DISSOLVES

we follow the truck as it winds its way across the desert, bouncing through dry creek beds, snaking along the edges of steep cliffs, past Indian ruins, and finally coming out onto a small paved two-lane highway that has seen better days. The dissolves continue as the truck stretches out across the flat Texas landscape moving west, eating up the day.

INT. TRUCK CAB - SUNSET

We can see the men better now. The driver, ED, has a full beard and long straight light brown hair braided Indian-style down his back. When he smiles, we can see a gold canine tooth. He is probably in his mid-thirties. He looks like someone you should never fuck with. He sits easily in the driver's seat, one buck-skinned arm hanging out the window.

The passenger, FRANK, is busy cleaning the white tufts off a series of peyote buttons with a large hunting knife. He is about the same age as ED, but his darker hair is thinning and his beard only grows in the form of a scraggily goatee. As he takes a bite out of a button, Ed points silently toward the west. There, a bright shooting star streaks across the darkening sky. Suddenly, there is a blinding explosion of white light, engulfing the entire screen. Then darkness and a voice.


VOICE
(laughing)

What the fuck are you doing?
EXT. UNIVERSITY CAMPUS - NIGHT

Two college boys are walking across the quiet, darkened campus grounds. One of them is holding an old model Polaroid camera. His name is RON.


RON
Wait . . . wait . . . Here comes another one . .
He holds the camera up to his face, lens pointing at him, and snaps another picture. The flash blinds us once again, obliterating the entire scene. Slowly, the boys and the campus come back into view, but not without disturbing after flashes.

ANGLE ON OTHER BOY

His name is CHRIS. He is a slim good looking nineteen year old with shaggy brown hair. He is dressed in old levis, a t-shirt and Beatle boots. He walks with the fluid self possession of an athlete. He looks at RON, dumbfounded.


CHRIS
What are you - ?
RON
(looking at his watch, waiting for the photo)


There's this guy I read about . . . He can photograph his thoughts. I saw it in Life magazine . . .

ANGLE ON BOTH

RON pulls the photo from the camera and waves it in the air to dry. He is the same age as CHRIS. His dark,straight hair falls across his eyes. He wears horn rimmed glasses on his thin, intelligent, hawk-like face. He wears corduroys and a beat up sport coat. He has the look of an anarchist.


RON
(cont.)
. . . so I figured I'd try to photograph my hallucinations.


He walks over to a street lamp to look at the picture. CHRIS follows and leans in close to him.


CHRIS
(whispering conspiratorially)
Did you get off already?


RON looks up smiling, his pupils dilated to their maximum capacity. He looks at CHRIS with a slightly loony look. CHRIS barks out a laugh. He waves his hand in front of RON's face.


CHRIS
How many after-shadows?

RON
Five.

CHRIS
Beautiful.


CHRIS stops and looks around, surveying the situation, analyzing his high. He looks at the back of his -

HANDS

There is a blue-green glow around them. It seems as if he can see the bones, muscles, and arteries under the skin.

CHRIS

smiles happily, ear to ear.


CHRIS
Oh yeah . . . this is good acid.



CLOSE ANGLE ON RON UNDER THE LIGHT

He holds the photo up for inspection.

THE PHOTO

is obviously just a distorted out of focus shot of RON's face.


RON
No . . . that didn't work . . .


As he lets his hand fall to his side, holding the picture, we FOLLOW the photo - fall with it - for one disorienting instant.

CLOSE ANGLE ON CHRIS

His pupils are completely dilated. There is no color - just black. He face is perfectly relaxed. Then a small smile tugs at his lips. He looks like a Raphaelite angel. Innocent. Content. He looks around his surroundings.

POV CHRIS

We see that they are on what seems to be a new campus somewhere in the Southwest. Tall palm trees line the walkways and public areas. All of the six and seven story campus buildings look as if they were recently built. Roses and bougainvillea are everywhere. Citrus trees grow lush in slightly sunken lawns bordering the buildings. One or two students walk leisurely along the sidewalks. The PAN continues in a 360 to end on a -

CLOSE UP OF CHRIS'S FACE

He is beaming. He glows with the enthusiasm and vitality of youth. He breaths deeply and looks affectionately over to -

RON

who looks back at him with an almost unbearable alertness.

ANGLE ON BOTH

They stand about four feet apart in the middle of a mall. We can hear crickets and see moths fly around the lamp above their heads.

They stand there, just looking at each other and smiling. Not moving. Not fidgeting. Totally relaxed and content. Not compelled to move or make small talk. They stand there and experience each other and find it good. They smile like children with a secret.


CHRIS
You know . . . we'll never be the same . . .


ANGLE ON RON

He looks at CHRIS with a look of unexpected and utter happiness.


RON
I know . . . Ain't it great?


CHRIS COMES INTO FRAME

His face is intense with discovery and the same kind of blazing joy. He embraces RON and forces him to spin in a circle.


CHRIS

I can't fucking believe it! Do you know what would happen if everyone could experience life on this level? If everyone took acid? (his mind boggles before our very eyes) It'd be the end of war -- of poverty -- of -- of -- It would be the end of all the bullshit! People would start loving each other - taking care of each other -
He is overwhelmed at the thought. He laughs. He howls with joy. He separates from RON and spins in a circle of his own.


CHRIS
We're involved in the greatest revolution ever seen on
this planet. I can't fucking believe it! What fucking luck!


RON

has not really been paying attention. He is looking up at the -

STARS

Galaxies splash across the wide black desert sky.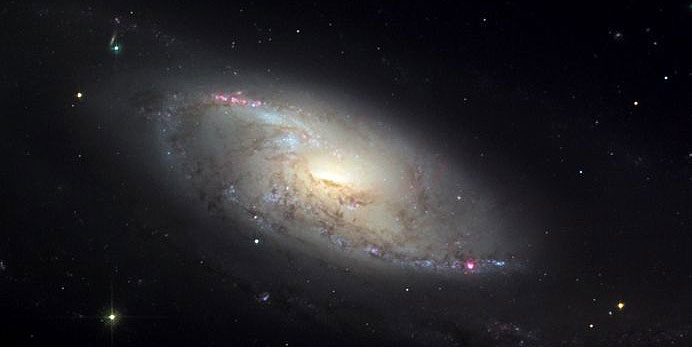 RON
(b.g.)
You think they dance?
Irv said he saw them dance when he took that Sandoz.


THEY STAND THERE LOOKING UP.

ANGLE ON THE SKIES

We shoot upward into the spiraling stars in slow motion.

Both of them have gone silent.

CHRIS

turns to his friend, smiling.


CHRIS
C'mon, let's go. I told GERRY we'd meet her at Darrell and Taco's.


We watch as CHRIS guides RON down the mall, over to a small parking area. They climb into a two tone old milk truck with a black Hindu symbol of some kind painted on its side. The engine starts. The lights come on, and they pull away.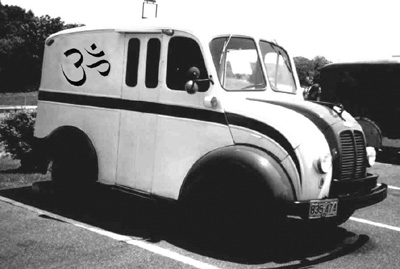 CUT TO:

C.U. OF ANOTHER YOUNG MAN'S FACE

We hear the sound of indistinct rock music and people talking in the background. The young man has dark hair parted neatly on the side, glasses and the face of an affluent, well-bred Los Angeles Jew. He is intent on something we can't see. Someone calls to him from the background.



GIRL'S VOICE
(b.g.)
Darrell! (pause) Hey Darrell! What are you doing?



WIDER ANGLE ON DARRELL

He is dressed in the standard uniform of a college preppie. Gant shirt. Weegens. Dark, crisply ironed chinos. He is trying to get a balloon wrapped around the nozzle of a spray can. He stands at a kitchen counter. He finally succeeds in getting it together and then fills the balloon with the contents of the can. He quickly puts the balloon in his mouth and inhales the whole thing. He waits a second and then answers the girl.



DARRELL
(in the helium voice of a chipmunk)
Just whipping up a little surprise.



In the b.g. we hear three or four people break into instant laughter. Someone has turned up the stereo, and we hear Frank Zappa and the Mothers of Invention singing on their first album. Upon examination it is obvious that they are in the kind of -

CHEAP OLD HOUSE

that college kids rent.

A PRETTY GIRL IN HER EARLY TWENTIES

comes into the kitchen laughing. Her name is GERRY. Beautiful face and figure. Long,dyed blonde hair. She is wearing tight slacks tucked into go-go boots. Form fitting black sweater. She walks over to Darrell who hands her a filled balloon. She looks at him quizzically.



DARRELL
(his voice almost back to normal)
Just inhale the whole thing.



GERRY proceeds to do just that. She holds it in her lungs like it was smoke from a joint and then exhales.



GERRY
(her voice jumps three octaves and speeds up)
So what's it supposed to do?



Hearing herself causes her to break out in high pitched chipmunk laughter. Darrell has just done another hit and he laughs along with her. This brings two other people into the kitchen, both smiling and laughing. The female is an exact replica of GERRY with slightly different clothes. Her name is GINGER. She is GERRY's twin sister. She is with GUY. He is tall and dark. About twenty. Somewhere in him there is Spanish blood. He wears levis, cowboy boots, and a simple faded levis shirt. He is smoking a joint.



GUY
(laughing in a naturally deep voice)
Sounds like the fucking chipmunks in here.
(reaching out for the next balloon)
Let me try it.



Darrell fixes him a balloon which he inhales very deeply and holds for a long time. He then starts singing the "Chipmunk Song" made popular by David Seville in the late fifties. Everyone goes nuts laughing.

CUT TO: INT. FRANK AND ED'S TRUCK - NIGHT

They are cruising along a two lane highway in the middle of the desert. We hear top forty radio station. A flashlight hangs on a hook over Frank's shoulder, illuminating his lap. Both men are silent. A square board lies across Frank's lap. He lightly tosses three odd looking coins onto the board, examines them, and then writes a small scratch mark on a small piece of paper. He then reaches into a leather bag at his feet and pulls out a thick book.

Suddenly, something screams long and high and loud in the back of the truck. Ed looks over to Frank without saying anything. Frank takes the flashlight and looks into the back. He plays the light around for a second, and then, satisfied, turns back. He just nods at Ed that everything is alright.



ED
How much money we got left?



Frank goes into his leather bag again. As he does, the truck comes over a rise.

POV ED

There, sprawled out in a large shallow desert valley is the entire city of Phoenix glittering in the night. An oasis of light in the surrounding blackness.



FRANK
Twenty bucks and change.





ED
(looking over)
Let's stop in Tempe and sell some buttons to some college kids.
They've always got money.
(he looks at the book on Frank's lap)
What reading did you get?



Frank smiles.


FRANK
Abundance changing to Fellowship with Men.



Ed smiles and again something in the back of the truck lets out a scream. The city grows larger as they approach.

CUT TO:

EXT. QUIET SUBURBAN STREET - NIGHT

CHRIS and RON pull their milk truck up to a large old ramshackle two-story building. It is surrounded by newer well-tended, middle-class homes on three sides. On the fourth side is an empty lot. Farther down the block we can see cars going by on Mill Ave., the main artery of the town. The neon light of a bar blinks up on the street. As CHRIS parks the truck and climbs out, we can hear Zappa and the Mothers coming from the inside of the old house. Both he and RON bound up some outside stairs to the second story.

As they reach the top of the stairs, we hear a dog barking from below. CHRIS turns and looks back down to the truck.

POV CHRIS

There, standing in the open door of the truck, is a young german shepherd - ears cocked forward, tail wagging. Seeing that he has CHRIS's attention, he barks again.

CHRIS

looks down and smiles. He looks intently at the dog and then cocks his head to the side with a goofy look on his face.

THE DOG

cocks his head.

CHRIS laughs.



CHRIS
C'mon, Jon!



Jon bolts from the truck and up the stairs.

ANGLE ON TOP OF THE STAIRS

They are standing on a rickety porch which leans off to one side. RON gives a super-secret, double-tricky knock on the kitchen door and then enters without waiting for a response. Jon comes bounding around the corner and beats both CHRIS and RON inside.

INT. KITCHEN

Jon runs in, tail wagging, sniffs everybody, and finally comes up to GERRY, rubbing himself up against her.



GERRY
Jon boy!



She bends down, hugging the dog and ruffling his coat.

RON and CHRIS come in and everybody is talking at once, saying hello and talking about the 78 rpm effect of helium. CHRIS walks over to GERRY and kisses her. She takes one look at his dilated pupils and smiles.



GERRY
How long ago did you drop?

CHRIS
A couple of hours. You'll want some of this. It's the best batch
Owsley's made yet. It's like controlled lightning.



Darrell, standing at the counter, blowing up another balloon, over hears them talking.



DARRELL
You guys on acid? Great. C'mon, I got to show you something.



In the b.g., RON is backing up against the wall, holding his camera up to his eye, trying to get a shot of the whole group. Guy whips out a short black comb out of his pocket and puts it up to his eyes in a playfully furtive gesture. The flash goes off and for a second the screen freezes.

POV CAMERA

Darrell is gesturing toward the camera for RON to come with him. The camera drops and we see the floor.

TRACKING SHOT

After Darrell gives the balloons and helium to Guy, he directs RON and CHRIS out of the kitchen and down a long hallway to a bedroom door. The door is closed.



DARRELL
(whispering to both of them)
This is going to blow your mind.
(to RON)
Get your camera ready.



Darrell opens the door quietly.

POV OF GROUP

There is a well lighted comfortable looking bedroom we see a large young man with conservatively cut light brown hair, dressed in a white shirt and tan chinos. He is sitting by the side of a double bed in a chair, facing us. Just above the bed, apparently floating about a foot off of it, is a young blonde girl - her body rigid, her long hair dropping down and curling against the pillow below her head. The man looks up, irritated at being interrupted, and puts his finger to his lips in a gesture commanding silence. The flash bulb goes off, freezing the frame for a fraction of a second. It all happens so fast it's hard to tell what we've seen as Darrell closes the door.

ANGLE ON GROUP IN HALLWAY

CHRIS and RON are stunned, then amazed, and then enthusiastic. CHRIS turns to Darrell as they start walking back down the hallway.



CHRIS
(he is extremely animated)

See! See, I told you! I told you!. There something going on here way beyond the bullshit we've been taught. It's . . . it's . . . (he stops in the hallway, overwhelmed)
We gotta find out what's going on!
(he looks at Darrell intensely)
We're wasting our time here. The only thing we're going to learn here is how to become another automaton in the machine. We're on the verge of something -



Darrell interrupts him. It's obviously a running argument.



DARRELL
You're not even going to take your finals, are you?

RON
(forehead knotted in thought)
Darrell, who were those people?

DARRELL
(ignoring RON for the moment and continuing to talk to CHRIS)
Are you going to take your finals?



CHRIS
(with an absolute acid certainty)


Why? It's just more useless information designed to indoctrinate you into a culture that's dying around us as we speak. It's up to people like us who have seen something different to create some kind of alternative.



By this time they have started walking toward the kitchen.



DARRELL


Where I come from there are three alternatives. Doctor, lawyer, or Hollywood agent. If I don't finish my finals, I'm going to end up reading bad scripts for the rest of my life. That's reality. Don't let the acid fool you. Yeah, maybe there is some mysterious shit going on. Yeah, maybe you can float on air. Maybe you can walk on water. So what? Look what happened to the last poor fool who did that. It doesn't pay the rent. That's what I know. It's a dog eat dog world out there. Always has been. Always will be.
(he looks down at Jon, the dog, who has been right at their heels the whole time.)
Nothing personal, Jon.



INT. KITCHEN

GERRY, Ginger, and Guy are still having a good time with the helium, but the novelty is wearing off. At that moment, as Darrell, CHRIS, and RON enter from the hallway, someone comes in from the porch. It's TACO, Darrell's room mate. He is small and dark with short black hair. A spoiled rich kid from north Phoenix. He walks with a noticeable slouch. He wears sunglasses at night. He is the picture of a budding sleazy dealer. Guy and Ginger immediately perk up.



GUY
Taco! Amigo! Did you score?



Taco hold up a small plastic bag containing white powder.



TACO
(smiling, rapping a mile a minute)


Absolutely pure, one hundred percent pharmaceutical, lily white methamphetamine hydrochloride. This stuff will clear your mind, brace your spine, slow down time, help you find - ecstasy - for only a dime. This stuff will make you smile . . .


Taco can't stop talking. He obviously already sampled his stash. He walks right through the kitchen, continuing to talk and say hello to everyone at once, moving fast, winking, smiling. Guy and Ginger follow him out of the kitchen.



TACO
- all the while, with killer style - just a little white pile -



He continues to talk as his voice fades away.

Darrell reaches under the kitchen counter and pulls another aerosol can out. He begins fitting a balloon to it. CHRIS is intent on finishing their conversation.



CHRIS


RON and I are going up to the city. I talked to Gino. He said we could stay with him until we found a place.




DARRELL


You drop out now and they're going to draft your ass. In six months you'll be crawling through the swamps of Nam dodging bazookas and snakes.


CHRIS comes over and leans on the counter, bringing his face in close to Darrell's. RON goes over to the kitchen table where GERRY is rolling a joint.

CLOSE ANGLE ON CHRIS AND DARRELL

Darrell becomes a little unsettled as CHRIS stares at him with acid concentration, just a few inches away, well within his personal bubble of space. He can't return CHRIS's stare.



CHRIS
(quietly and intensely)

That's just what they want you to think.


Darrell looks up briefly, uncertain. A big, booming voice interrupts the scene.



VOICE
(o.s.)

Hey, hey psychedelic rangers! Did that picture come out?


ANGLE ON ROOM

The man and woman we saw in the bedroom enter the kitchen. The man is about six foot six. Light brown hair parted to one side falling down over his forehead. His eyes are icy blue, penetrating and full of humor. He has to duck coming through the doorway into the room. He looks like a straight business man in casual clothes. The woman is a beautiful blonde, hair cut in bangs and then falling over her shoulders. She wears high boots and a leather mini skirt which clings to her body like skin. She wears a tight white lacy blouse. Her mouth is full and sensual. The effect is that of a mod girl from London which is what she's going for. She's a go-go dancer in a cage in a bar in Scottsdale called the Red Dog. Her name is ANNE. The big man walks over to RON and CHRIS and extends his hand.



BIG MAN
John Galt. Pleased to meet you.



RON shakes his hand and tells him his name. The blonde interrupts.



ANNE


Don't pay any attention to him. His name's not John Galt. It's Slagge. My name's Anne.


GERRY hands RON the joint and he lights it.



RON
(with a skeptical, amused look)


He hands the joint to Anne.



ANNE
(inhaling)

Yeah. Slagge T. Pyle. Can I see the picture?


In the b.g. someone puts on the first Cream album and cranks it up. Clapton's guitar comes through loud and clear. RON hands her the picture, and then looks over to CHRIS with raised eyebrows. They share a look of appreciation for the new hot chick.

C.U. OF PHOTO

The picture is a little blurry. It seems as if we see her floating off the bed. Slagge is looking directly at the camera, forefinger to his lips.



SLAGGE (b.g.)


ANGLE ON ROOM

Anne is standing by the kitchen table, absorbed in the picture. Slagge stands with CHRIS and Darrell over by the sink. Darrell has filled up a balloon with the new can. He hands it to Slagge who takes a big hit. Anne finally looks up.



ANNE


Slagge's voice has changed drastically. Instead of going high and fast, the new balloon takes it in exactly the opposite direction. His voice drops incredibly low in register and slows down like a 45 record being played at 33 and 1/3. Coming out of him the humor is irresistible.



SLAGGE

I . . . said - Do . . . you . . . believe . . . me . . . now?


The whole room cracks up. Darrell starts filling balloons from both cans and passing them around. The whole room gets caught up in hysterical laughter - some of it very high and fast - some deep, low, and booming. It's infectious.



CHRIS
(to Darrell, very deep and low)

What . . . is . . . this . . . stuff?


Darrell holds up the can and looks at it. When he answers, it's in the chipmunk voice.



DARRELL

It's the stuff they use to frost bar glasses with.


This sends another bizarre wave of laughter around the room. Jon gets up from the floor and CHRIS's feet and walks over to a window. His ears are cocked forward. Something has his attention. CHRIS notices and walks over laughing like the giant in Jack in the Beanstalk. He looks

OUTSIDE

but only sees the quiet neighborhood. He turns back to the room. Jon stays, looking out, still sensing something coming.

CUT TO:

INT. ED AND FRANK'S TRUCK - NIGHT

They are cruising up the main drag of the college town that we caught a glimpse of earlier, when CHRIS and RON pulled up at Darrell's. Frank's eyes scan from left to right. Suddenly, down a side street, he sees the white milk truck with the Hindu symbol on its side parked next to the old two story house.



FRANK

Okay. We're here. Turn around.


CUT TO:

INT. KITCHEN - NIGHT

Darrell is still over by the sink, trying to fill another balloon, but it's obvious that both cans are empty. The rest of the group is sitting at the table passing around a joint and looking at the photograph of Anne floating above the bed, and discussing it animatedly. Slagge is standing by the refrigerator.



SLAGGE

Hey, Darrell, can I make a sandwich?


Darrell throws the empty cans in the trash.



DARRELL

Yeah, you can use whatever's there.
(turning to leave the room)
I'll be right back. I'm gonna get a taste of Taco's candy.


CLOSE ANGLE ON REFRIGERATOR DOOR

Slagge opens the door, only to find barren shelves with mold growing on them, a jar of pickles, and a half of a loaf of Wonderbread. He takes the bread and a jar of miracle whip and closes the door.

ANGLE ON TABLE

He proceeds to go back to the table and sit down. CHRIS confronts him immediately.



CHRIS

How did you do this?
(he looks intently from the photograph in his hand to Slagge)


As CHRIS and Slagge talk, GERRY and RON watch curiously as the big man makes his sandwich. He takes four pieces of bread, smoothes miracle whip on each one, and then stacks them on top of one another. He lines the slices up so they all match perfectly and then takes a bite before answering CHRIS. RON talks to Anne more quietly on the side. His eyes go from Slagge's sandwich to Anne's braless breasts.


SLAGGE
(to CHRIS)


Ever hear of Alistair Crowley?



CHRIS


No.



SLAGGE


Alistair Cooke?

CHRIS shakes his head waiting for some kind of real answer.



SLAGGE


Bella Abzug?



RON
(to Anne)


That's his idea of a sandwich?



ANNE


It's all he ever eats.
White bread sandwiches and homogenized milk.
He says white makes right.
It came to him one time when he was sniffing glue.
(she hands him the joint)



RON
(taking a long hit off the joint)


White glue?

Anne just shrugs.


In the b.g. we can see Jon at the window wagging his tail slightly and crying quietly, intent on something.



CHRIS
(to Slagge)

Seriously. How did you do it?





SLAGGE


Can't tell you. Secrets of the great mystic order of the White Wonderbread Brotherhood.



CHRIS sits back, realizing that he's not getting anywhere. He looks thoughtfully over at Slagge and then back to the picture. Slagge puts his sandwich down for a minute, and RON, who is sitting next to him, leans over and sticks his index finger into the mass of doughy bread with the curiosity only an acid-head can have.

EXTREME C.U. OF BREAD

We see RON's finger go in and out in slow motion. As his finger comes back out, the bread snaps slowly back into shape as if nothing had happened. We hear a barely perceptible whining sound as if the bread was objecting to RON's intrusion. The sound turns into a small bark.

ANGLE ON CHRIS

He looks behind him and sees Jon becoming more agitated at the window. In the foreground, Slagge gives RON a curious look, slides the sandwich over to him, reaches into the loaf on the table and pulls out four new slices. CHRIS moves over to the window.

POV CHRIS AT WINDOW

He sees Ed and Frank pull up and park behind his milk truck. Frank gets out and looks around. He looks like a mountain man out of 1830. Out of place in the college town neighborhood. He emits a primal energy - a primal certainty. Buckskins head to toe.

C.U. ON CHRIS

Fascination and amusement flash across his young, smooth shaven face.

POV CHRIS

Frank looks up at CHRIS and smiles. He waves for him to come down. In the b.g. we hear Guy and Ginger come back into the kitchen, talking a mile a minute about anything, about everything - rushing from the speed.

ANGLE ON THE KITCHEN

CHRIS turns around, catches RON's attention, and jerks his head for him to folow. GERRY catches the exchange. CHRIS silently mouths the words - "I'll be right back". CHRIS and Jon walk out onto the porch and down the stairs. RON follows.

EXT. STAIRS - NIGHT

CHRIS is almost half way down. RON is at the top.



RON



CHRIS turns, looks at RON a minute, and comes back up a few steps. They look at each other as they did in the park. RON knows that as soon as they got away from the social scene in the kitchen that they would become more aware of the effects of the acid. Suddenly, everything is brighter. Their eyesight, sharper. Colors become more saturated. The sounds of wind and crickets become clearer. It's as if when they were in the kitchen everything was dampened down somehow. Suddenly, the fact of how high they are - the realization that their central nervous systems are as sensitive as raw nerves - sweeps over them. Smiles light up their faces. They know that at that moment they are experiencing life stripped of most of the masks and filters we use to conduct our normal everyday existence. They are more intensely aware of everything around them and the experience brings ecstasy with it. In the b.g. we hear Cream playing "I'm So Glad". CHRIS nods, smiles wider, laughs and bounds down the stairs.

ANGLE ON THE SIDEWALK IN front OF THE TRUCKS

RON and CHRIS walk up to Frank as Ed comes around the other side of the truck. The introductions and short and first name only. Ed lights a joint and passes it to RON. The brotherhood of heads is recognized. Jon immediately starts sniffing around the truck intently. Something is making his nose go crazy.



RON


You guys live around here or what?
(by the time he finishes the question he is laughing at the absurdity of it)




FRANK


No. We're just passing through. We've just been down to the peyote fields south of Laredo. Know anybody that wants to buy some fresh buttons?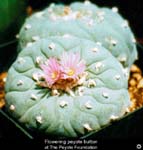 RON
(smiling)

Fresh buttons? Are you kidding? How much?




CHRIS


What's it like down there? In the fields?




FRANK
(he answers both questions in the same matter of fact tone)



RON and CHRIS look at each other like two kids on Christmas morning.

ANGLE ON BACK OF PICK-UP

By this time, Jon is standing on his hind legs at the back of the truck, peering into the darkness under the tarp. He is so alert that it hurts to watch him. CHRIS notices.

ANGLE ON ALL



CHRIS
(gesturing toward the truck)



Frank and Ed look at each other briefly and come to a silent understanding. Frank goes over to the passenger door and reaches inside. He comes back with a flashlight.

CLOSE ANGLE ON THE TRUCK

Everyone crowds around as Frank plays the flashlight around the interior of the truck bed. Iridescent yellow and red eyes stare back at them. There are small cages stacked on top of one another. Inside one cage are two full grown owls. In another, two small, cute baby bobcats. One of the owls screeches. We've heard it before. From another cage comes the unmistakable sound of a rattler. RON and CHRIS look at each other in wondering disbelief. RON looks at Frank.



RON


What . . . ?
(he laughs to himself)
You taking these animals to a zoo or something?


Ed laughs for the first time. Frank joins him.



FRANK
(amused)


Yeah. You could say that. We're going up to Haight-Ashbury. There's a shop on Haight Street called the Pacific Ocean Trading Company. They'll handle all of this.





CHRIS
(taking a hit off the joint and almost coughing)


This is cool. Do you guys need a place to crash tonight?




FRANK
(amused)


Nah. We can't stay. Got to get across the desert tonight while it's still cool. We just stopped here to get some gas money.


A CLOSE ANGLE ON CHRIS

reveals that the wheels are turning behind his eyes. He's got something cooking.

RON continues to inspect the inside of the truck. He pulls a brown gallon glass jug from the truck and sniffs at it.



RON





FRANK


Patouli oil. It's popular up there.




CHRIS


Hey, listen. You guys wait right here. We'll go take up a collection for the buttons and be right back.


TRACKING SHOT

We follow the two boys as CHRIS pulls RON away from the truck and back up the stairs. CHRIS stops in the darkness half way up and looks at RON intensely.



CHRIS


Let's follow these guys up to the city.


RON looks at him quizzically.



RON





CHRIS


Why not? What's the difference? Now or a week from now? It's like a sign.


RON looks at him skeptically as one can blasted to the gills on good acid when anything is possible.



RON
(almost to himself, but not quite)



He looks at CHRIS but his eyes have the look that tells you that he is really more concerned with the thoughts swirling around inside his head. Awareness of the outer world jumps back into them and a smile pulls in fits and starts at the corners of his mouth. Then all you can see are dilated pupils and smiling teeth.



RON


Fuck it! C'mon! Let's go!


CHRIS half chuckles, half growls with enthusiasm as he surges past RON up the stairs.

INT. KITCHEN - NIGHT

CHRIS and RON enter excitedly. RON starts in immediately.



RON
(to everyone)

Anybody want some peyote? There's two guys downstairs who got bags of it for a nickel and a dime a button. Fresh. I'm taking a collection.


Everyone shows immediate enthusiasm. Conversations and remarks stumble over one another. CHRIS walks over to GERRY at the table.


TACO


Nickel and a dime a button? Shit. I can sell them for a half a dollar per. Gimme twenty bucks worth.
(he pulls out his wallet and gives RON the money.)



SLAGGE


I took peyote once with some aliens . . .



GUY
(laughing and interrupting)


Yeah, your parents.
(he gives RON five bucks)



RON
(grabbing the money and looking up)

Darrell, what about you? Want some?
(he gives RON five bucks)





CHRIS
(quietly)


We're going to follow these guys up to the city. The time has come. Do you want to go?



GERRY


Are you kidding? But it will take me a few days to get mine and Billy's stuff together.
(she hands him a joint)



CHRIS
(taking a long hit off the joint)


Billy!
(an affectionate look crosses his face)
I forgot. I've never had a girlfriend who had a kid before. But that will be perfect. It'll give us time to find a place.




Darrell has just come in the room. He has the wide-eyed look of someone who has just stuck his finger in an electric socket.



DARRELL


Peyote? Forget it. That last time I took that shit I puked in four colors.
(he stops and thinks about it . . .)
Well, on second thought . . .


He reaches into his wallet and pulls out a few singles.



DARRELL
(continued)


. . . later on I had this great conversation with a tree



Ginger and Guy look at each other and break out laughing hysterically.



GUY
(pointing at Darrell and laughing)

You should have seen him . . .


He can't say anything else. He walks over to Darrell and hugs him, laughing until the tears run. Darrell stands there, taking it.

CLOSER ANGLE ON CHRIS AND GERRY

He turns to her with affection and concern, realizing that it's very abrupt. She reads his mind and slips into his arms. Their bodies glued to each other. She looks up at him.



GERRY
(she laughs lightly)


Don't worry. I'll be there. There's no way I'm going to miss out on this.


He laughs and pulls her through the door out onto the porch.



CHRIS
(as he moves toward the door)



RON's still collecting money.



RON



EXT. RICKETY PORCH - NIGHT

CHRIS and GERRY lean against the wall and kiss long and deep. RON comes out of the door and down the stairs.



RON



They kiss one more time and CHRIS bounds down the steps after RON.

INT. KITCHEN - NIGHT

Darrell walks over to the kitchen window, opens it, and leans out.



DARRELL
(loudly)

They're going to draft your ass!


Over at the table,

SLAGGE

is mysteriously pulling a fully inflated balloon from underneath the table. He inhales its contents and stands up - leaning forward - resting his fists on the table like an ape. He tries to be serious, but a loony light dances in his eyes.



SLAGGE
(in a loud, high and wild chipmunk voice)

I think that we've all had just about enough drugs for tonight.


Everyone, including Darrell, cracks up and the party goes on.

CUT TO: EXT. DESERT HIGHWAY - NIGHT

We are looking through the windshield of the milk truck. We are bearing down on a frightened

JACK RABBIT

frozen in the road, eyes red in the headlights.

THE TRUCK

breaks and swerves.

THE RABBIT

bolts off the road.

POV RABBIT

The two trucks explode by us like they were shot out of a gun. We watch the tail lights recede.

DISSOLVE TO:

EXT. DESERT HIGHWAY - DAWN





In a wide low shot we see the two trucks crossing the flat desert under an empty blue sky. In the b.g. desert mountains cut across the horizon. John Fahey's slide guitar carries the trucks across the landscape.

DISSOLVE TO:

VARIOUS SHOTS

Of both trucks heading north up through California until they pull into a small rural gas station somewhere outside of Fresno.

ANGLE ON TWO OLD GAS PUMPS

The pick-up truck pulls in first. The milk truck stops on the other side of the pumps. In the b.g., through the gas station window we see three men and a teenaged boy. Basic rednecks. The boy comes out. He's friendly enough, but the look in his eyes says that he's never seen anybody like these guys. He unlocks the pump and sticks the nozzle into the tank of the pick-up. Ed gets out and walks around to the boy. Through the station window we see the other men pointing and laughing.



ED
(walking up to the boy)

I'll get this. Fill up the other truck, will ya?


The boy does as he is asked, but slowly with eyes wide. A big man wearing levis and a baseball cap comes out and walks over to the pumps. He has that smile. You've seen it before. You know what he's going to do. It happens quick.



MAN
(to Ed)

Hey, boy. You one of them hippie weirdos I heard about?




ED
(quietly, calmly)

No, friend. I'm just like you. Just trying to get by.




MAN
(coming closer, not listening)

Is it true all you longhairs are queers? My brother told me that.




ED


Your brother doesn't know what he's talking about.




MAN
(stepping in closer, threatening)

You callin my brother a liar? He's over in Viet-Nam right now fighting for you, asshole.


The man's personal fear and anger start to shoot to the surface. Ed's just the convenient target. He steps inside Ed's personal space. In the b.g. we see the two other men step out of the station. One is older with white hair. The other is small and wire thin. We can see RON and CHRIS looking out from the milk truck just beginning to register what is going on. Frank starts to step from the truck.



ED
(still calm)


The man steps forward and smacks Ed in the shoulder with the open palm of his hand, knocking him against the truck, causing him to spill some gas. In a flash Ed spins around, grabs the man by the collar, throws him up against the truck, and smacks him across the face with the gas nozzle. The man is shocked. He is used to being the bully. He knows that he braced the wrong man. Blood flows from his nose. Ed motions for Frank to get back in the truck, while he puts the nozzle back in the pump. He pulls money out of his pocket and stuffs it in the man's shirt pocket. Everyone is frozen by the sudden and unexpected violence from Ed.



ED



The man stomps back toward the station with a determined look on his face. Ed looks over to RON and CHRIS.

ANGLE ON ALL



ED





CHRIS



Ed just tilts his head toward the road with certainty and climbs back into the pick-up, never losing sight of the men by the station. The milk truck pulls out. In the b.g. the beaten man comes out of the station with a rifle. Ed is already in his truck and moving. The man stands in the middle of the driveway and fires one shot after another straight up into the air in impotent rage, his face distorted in anger.

CUT TO: EXT. STREET OF SAN FRANCISCO - DAY

TWO MEN

are walking down one of the steep hills of San Francisco on a sunny spring day. In the distance, between buildings and at intersections, we can see the skyline of downtown and the bay bridge. The taller man is GINO. He is a big, burly bear of a man - an ex-marine. His long bushy hair and beard form a mane around his head. His hair is receding. He is in his early thirties, dressed in an army surplus fatigue jacket, tan slacks, and combat boots. He carries himself very erect.

The man with him is younger, with long curly red hair that has not yet quite reached his shoulders but is trying. He wears loose white drawstring pants, and east-Indian print t-shirt, and a blue navy peacoat. He shuffles along in a loose limbed gait. His name is MICHAEL but everyone calls him MEASLES. Everyone but Gino. They are in the middle of an animated conversation.



GINO





- going to dawn on you, Michael, that in a couple of weeks school is going to let out, and we're going to be flooded with maybe a hundred thousand kids - all looking for good drugs, free sex, and a great time.


Measles laughs and dances around in front of Gino, walking backwards down the sidewalk.



MEASLES
(happy, excited)

Exactly! The more of us there are, the less the cops or anybody else is going to be able to do about it! We'll own this whole part of town. Just like the outlaws in the wild west - or like the pirates who used to take over a whole island!
(he hoots with laughter and triumph
It'll be an island of psychedelic sanity!. There'll be no stopping us. We'll party until we save the world!


Gino smiles slightly at his friend's enthusiasm.



GINO


Sounds good on paper, man -


TRACKING SHOT FOLLOWS

They come to the bottom of the hill. Across the street is the four block long, thin strip of Golden Gate park called the Panhandle. On the grass, under the towering eucalyptus trees we a flatbed truck and a group of scruffy long haired men bustling around it.



GINO
(cont)

- but the fact is, that acid isn't a party drug. If we don't keep a lid on it - if we don't help these kids channel their experiences in a controlled fashion - they're going to be taking street drugs, cut with god knows what, and burning holes in their brains. It'll be a psychedelic nightmare.


They cross the intersection and enter the Panhandle.



MEASLES
(impatient with Gino's older and more conservative attitude)

There's casualties in every revolution, man. It's the price you pay -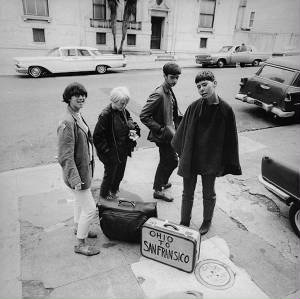 GINO
(interrupting)

Who pays? You? Or some sixteen year old just off the bus from Cleveland. Think about -


As they draw nearer to the flatbed, a couple of the men recognize Measles and call out to him, interrupting Gino. A small crowd is starting to gather around the truck. Young kids, guys and girls.

1st MAN
(glad to see Measles)


The others look up and join in.



THREE MEN
(glad to see Measles)

Measles! Measles! Measles!


ANGLE ON FLATBED

Measles and Gino walk up. Gino addresses the 1st Man.


GINO


Hey, Scott. What've you guys got for dinner tonight


Scott is an average looking twenty year old with long brown hair, dressed in levis and a black turtleneck sweater. He points at various large metal pots and tureens on the back of the flatbed.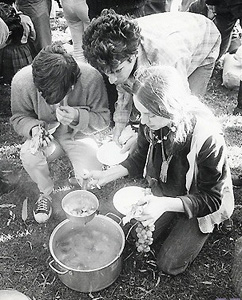 SCOTT
(animated, full of youthful cheer)

We got beef stew. We got black bread. And rice. And tea. And coffee. You know, good stick to your ribs stuff.
(he interrupts himself and addresses two of his fellow workers.) Hey, get up there and start dishing it out. We got some hungry people here.
(back to Gino)
Yeah, this is starting to work out thanks to Emmett.




GINO


Good work. Won't be long before there's a couple hundred people down here.
(to Measles)
I'm going to split. Gotta see Allan. See you back at the pad.




MEASLES


Okay, cool. And hey. Don't worry so much. Everything's going to be great.
(Gino starts to walk away)
Oh yeah, RON and CHRIS should be here about six. Cathy's going to cook up some spaghetti.





GINO
(walking away and waving)


Measles turns back to Scott and smiles conspiratorially. The other men are busy setting up folding tables and putting the large containers of food on them. More young fresh faces are approaching from the direction in which Gino left. Eyes bright. Full of excitement and idealism.



MEASLES
(to Scott)

Did you try those purple caps last night?


Scott's eyes go wide.



Scott
(keeping his voice low, moving in close)

Oh man! I'm still stoned! It was fuckin incredible! The strongest I ever took. I split it with my old lady, and it still blew my mind. Check it out. At one point I watched her move a book of matches across the kitchen table!
(his eyes grow wider)
With her fuckin mind, man. It was spooky . . .
(his eyes reveal that he is remembering the events)
. . . but then later we made love . . .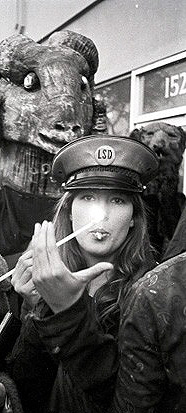 A huge smile comes across his face. He laugh almost inadvertently. Taken back by a revelation for which he has had no preparation - no education.



SCOTT
(cont)

Oh my god! I never knew that life could be such a . . .
(he searches for the right words)
. . . a complete trip . . . no . . more than that . . . such a privilege? . . .
he looks at Measles intently, questioningly)
You know what I mean? I can't think of the right word . . .




MEASLES
(smiling, his words spilling out, getting louder and louder)

Glory?, gift?, miracle?, magic, wonder, mystery. It's all of that! And more!


He's attracting the attention of the workers and the crowd. Faces light up. His opens his arms to the audience.



MEASLES
(playing to the crowd)

This is it. This is the time. You all know it!! Better living through chemistry!! WITH DOPE THERE'S HOPE!!!!


The crowd roars and laughs at the clown.


MEASLES
(back to Scott)

Listen, I've gotta go see Howie. You know if he's home?




SCOTT


Yeah, Emmett just went over there.


By this time, the other men have started to dish out the food to the people. No money is exchanged. It's free. Measles says goodbye and leaves the scene. As he is walking away, Scott yells at him.



SCOTT


Hey! Get me a couple more of those purple caps!


CUT TO:

INT. EDITOR'S OFFICE OF UNDERGROUND NEWSPAPER - DAY

One glance tells us that this is not the Chronicle. Psychedelic concert posters line the walls, as do strange photos, and clippings from other magazines and newspapers. An enlarged Tenniel print of the Mad Hatter's Tea Party is hung above the Editor's desk. The Editor, Allan Cohen, is standing, talking on the phone. He is of medium height, horned rimmed glasses, with long dark hair and beard. He could be a rabbi. A plain red-haired girl in a granny dress comes in and hands him an article to look at. He reads while he talks.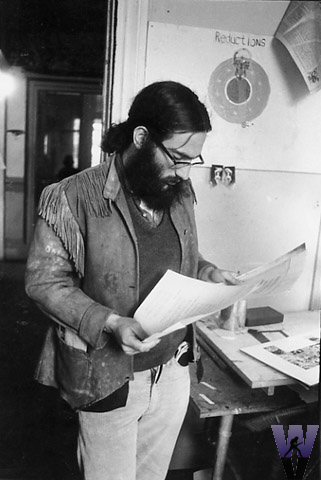 COHEN


Kesey? You're bringing up Kesey to me now as some kind of role model? Haven't you heard what's happening?
(he pauses, hands the article back to the girl, and nods.)
He got busted. Yeah. He's in jail over in Oakland right now - as we speak.


Gino comes in. He and the girl hug and kiss lightly as she walks out. Cohen smiles and nods to Gino.



COHEN
(cont)

So what? I'll tell you so what. Word's out that if he doesn't turn state's evidence, he's at least going to renounce the whole movement! Tell everybody that they got to stop taking acid! They got him shitting in his pants over a little hard time!


Gino comes closer. He looks at Cohen with a question in his eyes. He hasn't heard about this. Cohen nods and hands him a piece of paper from his desk. Gino reads while Cohen continues to talk.



COHEN
(cont)

Yeah? Well, it's a little late for something like that now. It's kinda like standing waist deep in the surf and holding up your hand to try and stop a twenty foot wave - you ever tried it? Yeah, well I have and it doesn't work. (he laughs)


Gino looks up and smiles.



COHEN
(cont)

Listen, I gotta go. Gino's here. Ginsberg and Leary will be here tomorrow. We're going up to Sacramento on Tuesday to push for legalization of the church.
(he pauses and listens)
Yeah, well, the odds may be against us, but if you come up with any other alternatives besides what Kesey is doing, then give me a call. Yeah. Good-bye.
(he hangs up and looks at Gino)
Can you believe what Kesey is doing?




GINO
(shaking his head, still reading the paper)

I don't get it. After all that's happened . . .




COHEN


Yeah, well apparently, he doesn't either.
(he walks to the door of his office and looks out. He turns back to Gino)
Did you finish that Fuller interview?
(Gino pulls a roll of papers from his coat. Cohen looks back out the door of his office)
Willy!
(A sixteen year old boy with tight curly blonde hair comes walking up. Cohen hands him the roll of papers.)
This is the interview with Buckminster Fuller. Get it typeset. It goes in this edition.


The boy takes the papers and leaves. Cohen goes back over to his desk and picks up the pasted-up cover of the new edition.

CLOSE ANGLE ON THE COVER

He shows it to Gino. It represents a vision of the ghost of Chief Joseph of the Nez Pierce Tribe at Mount Shasta with flying saucers. Above the graphic is the title of the paper - THE ORACLE.



COHEN



ANGLE ON BOTH



GINO


Perfect.
(changing the subject)
How do you think it's going to go in Sacramento?




COHEN


What do you think? We're going to go up there and try to convince these middle-class white Senators that we want to establish a legally recognized church that uses LSD as its sacrament. That, furthermore, this church will attempt to replace the ego, profit motive, and the isolated nuclear family with the alternatives of heightened spiritual awareness, equitable sharing and caring of the planet's resources, and the realization of all races as one global family - just for starters.
(he pauses for effect.)
What would you say our chances are?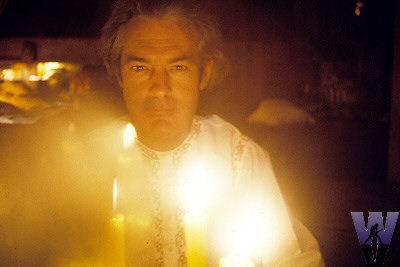 CUT TO:

EXT. CLAYTON STREET - DAY

Measles walks up some steps of a large Victorian house on a street filled with the same. He knocks on the door, rings the buzzer, steps back, looks up to a window on the second story, and yells.



MEASLES


Howie! Hey, Howie! It's Measles! Let me in!


Someone pulls back some lace curtains at the window, looks out, and then disappears. The door buzzes. Measles jumps forward and opens the door.

TRACKING SHOT FOLLOWS AS

Measles bounds up a set of stairs, talking the whole time.



MEASLES


Hey, did you hear how many freaks it takes to change a lightbulb?
(there's no answer)
I'll tell ya. Five. One to change it.
(he reaches the top of the landing, looks around, sees no one, walks down the hall to an open door, and walks in.)
And four to try and remember that it even happened.


INT. BEDROOM - DAY

Two young men are there. Howie is short, dark, with long thick black hair and a clean shaven face. Another New York Jew. He wears a dark crew neck sweater and levis. He is twenty years old. His face has a cunning intelligence. With him is Emmett Grogan, legendary figure of the period. He wears a brown suede jacket, a black t-shirt, tan corduroy slacks, lace up boots, and a cloth snap brim hat. His dark, thick, wavy hair flares out from underneath his cap. He has a rugged handsome Irish face. He and Howie both look at Michael. No one is laughing.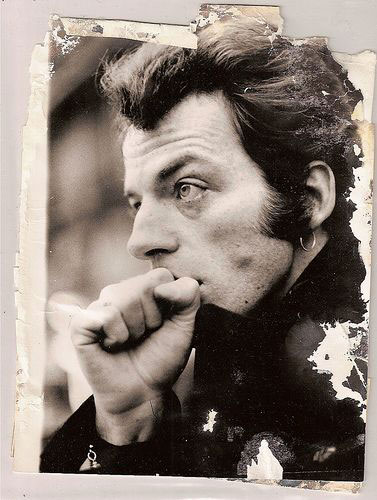 MEASLES
(he holds up his fist and taps it with his other hand)

Is this thing on? Testing . . . (he looks at them sheepishly and holds up both hands with the well recognized peace sign)




HOWIE
(smiling at his goofy friend)

What's going on, Measles?




MEASLES
(smiling)

I need some more of those Owsley purple caps. Got any left?




HOWIE
(smiling)




MEASLES
(smiling)


Howie nods, no problem, and walks out of the room.



HOWIE



Measles, ever wearing his feelings and thoughts on his sleeve, starts talking to Grogan.



MEASLES
(smiling)

You know Gino?
(Grogan nods and Measles continues)
He was just busting my balls again about the right way to take acid. He thinks you should never take it without fasting a couple of days first and totally controlling your environment. That whole Leary deal. He's all worried about all the kids coming here this summer. I'm thinking that it's all about freedom. No rules. I think the Pranksters got it right.
(we see him go inward for a moment, mulling it over in his own mind)
I don't know . . . what do you think?


GROGAN turns and looks out the window. There is an intensity to him that we haven't seen in anyone, except, in flashes, in CHRIS. He seems like lightning in a bottle. Intense, focused. When he speaks it is with none of Measles uncertainty. He has crossed over and is a true believer. He also carries exudes and personal magnetism and charisma beyond his twenty-four years.



GROGAN
(still looking out the window)

Gino is too old. (he pauses) He'll never completely throw off the neurosis of being raised in this culture. He'll never really be free, and above all else, that's what we need to be. Free of the bullshit we've been taught.
(he turns to Measles)
If you're lucky, you'll have a near death experience in a car crash. Or maybe you'll flash on a zen koan and get it. Maybe by reading a Blake poem. But right now - right here - Acid is the vehicle. Acid is the tool we can use to decondition ourselves - to open up to unfiltered reality. Until the people of this country rip off the blinders that have been put there by the lies of big business and a corrupt government, we're going to be continually drug into meaningless wars in which we kill off the best and brightest of our youth. We're going to go on destroying the very eco-system that we live in. Risks have to be taken. We have to open people's eyes. Those who know- must act. We have to bring down the system - cut it off at the knees - with undiluted freedom. That's what the radicals in Berkeley don't understand. They think that by going into the streets and demonstrating that they'll be able to effect some change, but all they're doing is playing into the Man's hands.


Measles who seems taken aback and almost overwhelmed by the tirade.



GROGAN
(relaxes, leans against the window sill, speaks with absolute certainty)


You play by the Man's rules - you go down under the Man's heel. We have to do whatever it takes to wake up the people of this country, even if it means dumping pounds of acid into the water systems of our cities. The stakes are too high to be careful, and that's what Gino and his friends want - to be careful. Meanwhile, the fat cats of the world continue to buy and sell any politician they need, continue to stockpile their personal fortunes at the expense of everybody else, continue to build their factories that pollute the very environment they live in. That, my man, is the madness we're dealing with. Think about it. The mass of people out there are too busy just trying to survive to see the destruction that's coming. If we don't do something, the whole house of cards is going to collapse around our ears. Then - then there's going to be fuckin hell to pay. (He looks out the window and waves his hand toward the city) When the whole financial system collapses and the weather's going haywire and people are living in the streets - it will be too late - it will be chaos.
(he turns back to Measles)
It's a suicidal system and it's up to us to stop it.



HOWIE

comes back into the room.

Howie walks over to Measles with a plastic bag full of purple tablets.



HOWIE





MEASLES
(eyes still wide in the wake of Grogan's tirade)

Emmett was saying that this whole country is constipated and acid is the X-lax.






CUT TO:

INT. MILK TRUCK - DAY

RON and CHRIS have made it to the city. CHRIS is driving. Up ahead of them, making it's way through the traffic we see Frank and Ed's truck. They are crossing Divisidero and heading up a steep hill on Haight. Everything seems quiet enough, middle class enough, normal enough. As they gain the top of the hill, suddenly we are there. It's like entering into another dimension. The streets are busy and full of people. Almost all of them in their early twenties or younger, dressed in every conceivable mode of attire. Men in victorian coats and top hats. Women in flowing robes. An older man with a white flowing beard, dressed in a crimson cloak and hood, carrying a wooden staff. Beautiful, young nymphets in tight short shorts and see-through lace blouses. War surplus khaki. People dressed as Indian, both american and asian, as cowboys, as any combination of time and culture. It's a sartorial free for all. Long hair, buzz cuts, mohawks, beatle dos, afros. It's all there. People fill the streets and sidewalks walking in and out of colorful shops and cafes. It's an american version of Ali Baba's bazaar - full of soothsayers, thieves, heroes, princes, harem girls, magicians, king's spies, exotic strangers, high priestesses, angel faced runaways. They're laughing, excited, in love with the scene. Happy to be there. There's not a cop in sight. It's taken territory.



CHRIS
(ecstatic)

Oh my god! Look at this! We're in heaven.


RON laughs.



RON
(smiling)

I love this place . . . !


Up ahead, after going a few blocks, we see Ed and Frank's truck turn off the street. The boys don't notice. They are enraptured by the situation. A tall thin woman in orange robes turns as she sees them and bows. The boys have no idea why. They don't know or have forgotten the symbol on the side of the truck is the hindu aum symbol. When they turn their attention back to the street ahead, Frank and Ed have disappeared.



CHRIS
(beaming, unconcerned, scanning the crowd)




RON
(relaxed, content, watching, waving )


The scene swirls around them. Includes them. At this point in time there is an intense sense of family among these kids. An immediate ability to embrace a fellow traveler. It is as simple as a look in the eye. A smile. Slightly longer hair. People nod, wave, recognize them as members of the tribe, as friends - as members of a movement that believes that love and inclusion are real, practical and necessary steps toward a more evolved human race. With that realization comes a joy. The enthusiasm is contagious. Guys play music on corners. Girls dance. RON and CHRIS slow to a crawl.



CHRIS
(enthralled)

You remember how to get to Measles'?




RON
(absorbed)

Yeah . . . it's up on Golden Gate. Shouldn't be a problem.
(he turns to CHRIS, smiling, teasing)
Do we have to go . . . ?




CHRIS
(smiling back, grabbing RON's shoulder with his free hand and shaking him affectionately)

I know . . . this is it! This is the place.
(their eyes meet)
We made it, man.



RON pulls out a big, fat joint, lights it up, takes a big hit, and passes it to CHRIS, obviously unconcerned about authority of any kind.



RON
(looking around, nodding and smiling)

Home at last . . . God almighty . . . home at last . . .



(End of Act I Click here to go to Act II)


---
The Haight by Terry Molloy Copyright 2006 All Rights Reserved

For More Stories About Jerome Click Here Author's e-mail Home